Black Friday Safety Tips: What Your Mother Never Told You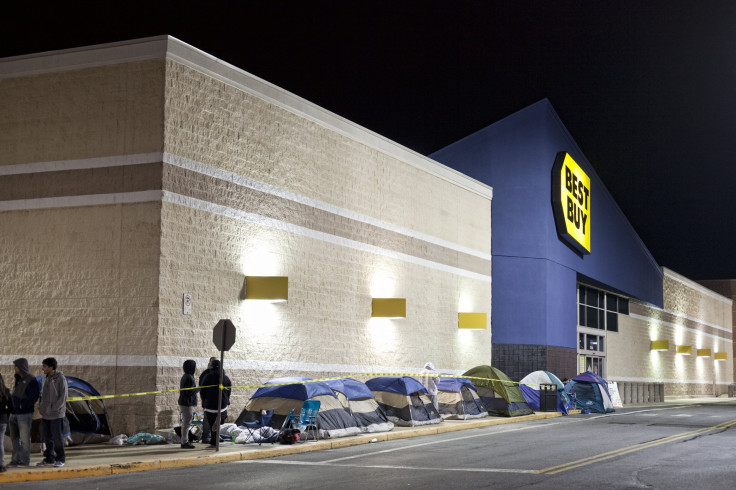 The reason we call the day after Thanksgiving "Black Friday" is commonly known: it is the day many retailers show a profit or "go into the black" for the first time all year. Yet Thanksgiving has long been seen as a marketing bonanza. Over the last century, department stores began hosting parades to launch Christmas shopping, first among them was the Gimbel's parade, originally hosted in Philadelphia in 1920, followed shortly thereafter by the Macy's parade, which has been running in New York City since 1924.
During the Great Depression, as this historic sketch from Time Magazine reports, retailers appealed to President Franklin D. Roosevelt, asking him to move Thanksgiving up in order to stretch out the holiday shopping season. Roosevelt obliged and in 1939 he shifted Thanksgiving to one week earlier. Having failed to announce this change soon enough, Americans celebrated two Thanksgivings that year — the original and Roosevelt's. Yet the switchover was handled so poorly that very few people had a chance to observe it, and retailers did not profit from it, so in the end, Roosevelt's failed idea became known as "Franksgiving."
In 2013 Thanksgiving will be celebrated on its usual last Thursday of the month time and following it will be the hectic retail explosion, when stores across the country open early and remain open late, some even remaining open for 24 hours. Because of the unusual shopping hours, the National Crime Prevention Council (NCPC) has created a list of rules for shoppers on Black Friday. In many respects these guidelines could easily apply to any shopping situation, all year round. The rules are also surprisingly contemporary, with tips to thwart online hackers as well as mall pickpockets, and the overall safety plan ranges far beyond your mother's warnings:
Do not buy more than you can carry. Plan ahead by taking a friend with you or ask a store employee to help you carry your packages to the car.
Shop online with companies you know and trust. Check a company's background if you are not familiar with it. Remember, if it sounds too good to be true, it usually is.
Save all receipts. Print and save all confirmations from your online purchases. Start a file folder to keep all receipts together and to help you verify credit card or bank statements as they arrive.
Consider alternate options to pay for your merchandise, such as onetime or multiuse disposable credit cards or money orders, at online stores and auction sites.
Wait until asked before taking out your credit card or checkbook. An enterprising thief would love to shoulder surf to get your account information.
Deter pickpockets. Carry your purse close to your body, or your wallet inside a coat or front trouser pocket.
Have your keys in hand when approaching your vehicle. Check the back seat and around the car before getting in.
Do not leave packages visible in your car windows. Lock them in the trunk or, if possible, take them directly home.
Tell a security guard or store employee if you see an unattended bag or package. The same applies if you are using mass transit.
If you are shopping with children, make a plan in case you get separated. Select a central meeting place and make sure they know they can ask mall personnel or store security employees if they need help.
Happy Thanksgiving and happy shopping!
Published by Medicaldaily.com