Black Friday Violence 2013: Top 7 Worst Displays Of Mayhem Caught On Video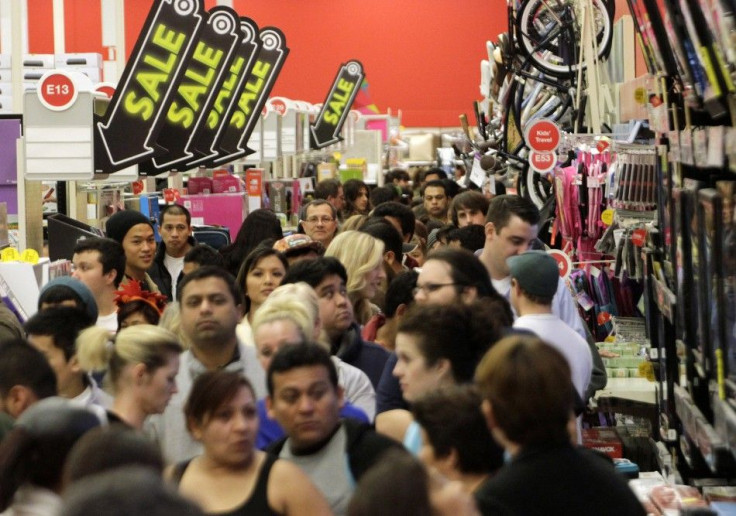 When retail stores across the country offer promotional sales on the holiday season's hottest gifts, long lines of eager shoppers are expected, but nobody prepares for the type of mayhem seen at this year's Black Friday. Or maybe some do — after all, fights, riots, turkey, and stuffing have all (sadly) become synonymous with Thanksgiving since stores like Wal-Mart started offering 50 percent discounts and opening at midnight.
Black Friday 2013 was no different as Wal-Mart, the largest retailer in the United States, reportedly took in over 22 million shoppers this past Thursday. Fights, riots and stampedes were on no short supply and the raw psychology of holiday shopping was on full display. Here are 7 of the worst videos showing Black Friday shopping mayhem we found circulating the internet. Warning, some of these shoppers aren't exactly in the holiday mood:
1. Wal-Mart has been answering to a lot of backlash following the amount of crazed shoppers and violent attacks that occurred after doors opened at 6 p.m. on Thanksgiving. As this video shows, even the shouts of frustrated Wal-Mart employees weren't enough to subdue the madness.
2. Despite all the controversy, Wal-Mart kept a pretty level head. They've said that this year's Black Friday sale went better than expected, safety wise. "It's been the safest Black Friday with millions of shoppers at our 4,000 locations across the country," Wal-Mart representative Brooke Buchanan told ABC News. "There were some isolated incidents that were resolved quickly through the help of our store associates, and in some cases with the help of local law enforcement. We're very happy with our safety plans and how they worked."
3. Wal-Mart wasn't the only retailer in the nation to experience the rage of Black Friday deal-seekers. A fight at a Target in Covington, Wa. left store employees speechless and looking for a way out.
4. Police were on hand at most larger retailers to manage the extent of the damage, but it did little to deter the onslaught. The hashtag #WalMartfights on Twitter has started to trend.
5. Wal-Mart's strategic attempt to limit the amount of shoppers in one store at one time was of no use. A mob of overzealous shoppers led a stampede past security staff and the gate designed to break up the rush.
6. The video seen below has caused quite a bit of uproar following Thanksgiving's promotional sales launch. A couple of teens making light of Black Friday's deals were met by an enraged shopper who was clearly fed up with all the insanity.
7. As the sales got bigger so did the amount of violence exhibited by bargain-hunters looking for a deal. When big screen TV's go on sale for as low as $100 in some stores you can expect fights like this one to occur.
Published by Medicaldaily.com