'Blade Runner': First Amputee to Compete in Olympics Track Event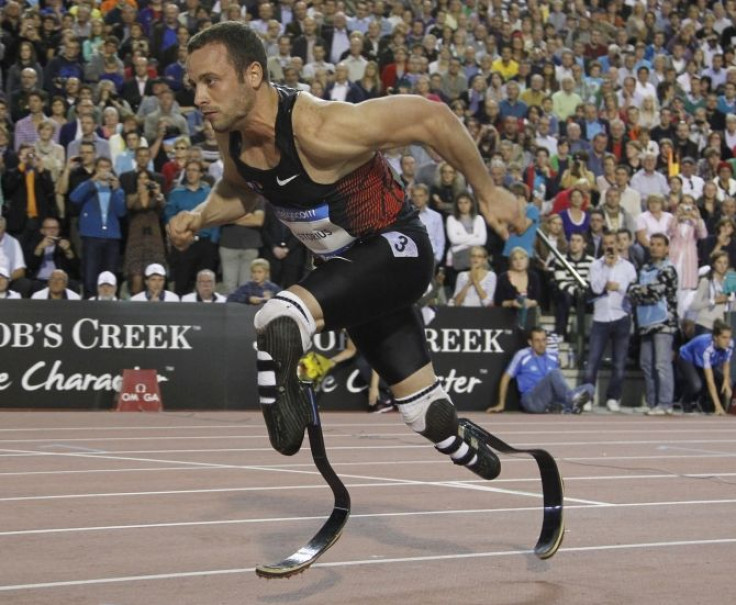 They call him the Blade Runner.
South African athlete Oscar Pistorius will be the first amputee in history to compete in both the Paralympics and the Olympics for track and field. He will be competing in the 400 and the 4 x 400 as part of South Africa's second-ranked relay squad for the London Olympics.
Pistorius, 25 years old, was not a shoo-in for selection. He ran a personal best, 45.07, last year, and began the season with a 45.20. But he needed a third race faster than 45.30 to qualify for the 400-meter race, and he missed it by less than a quarter of a second.
It was his race in the African Championships that convinced officials to let him on the team. He won a silver medal, his first individual medal for an able-bodied race.
But his inclusion has not been without controversy. Some are concerned that his carbon-fiber blades give him an unfair advantage, and can be dangerous for the other athletes on the second, third, and fourth leg of the race, when runners often bunch together. In fact, in 2008, the track federation pronounced Pistorius ineligible, saying that his blades were lighter than runners' legs, cited his bouncing movement, and proclaimed that he needed less oxygen than other runners.
That decision was overturned by the Court of Arbitration for Sport allowing him to compete in the Olympics and other sanctioned events.
He also remains bitterly disappointed about his treatment during the 2011 World Championships in South Korea. After helping the team get to the finals, Pistorius was dropped from the final race although he still won a silver medal.
Pistorius will also be defending his three gold medals in the 100m, 200m and 400m at the Paralympics as well.
Both of Pistorius's legs were amputated before he was able to walk. He was not interested in track and field as a boy, and only turned to the sport when he was injured playing rugby. Even then, he did not like it at first.
Pistorius is the only South African to compete in the individual 400 meters. He is not the first disabled athlete to compete in the Olympics. South African swimmer Natalie Du Toitt, whose left leg was amputated above the knee, competed in the open-swimming even. Australian archer Neroli Fairhall was the first.
Despite the controversy, Pistorius is overjoyed. Hugh Herr, the director of the Biomechanics Group at the Massachusetts Institute of Technology and a huge champion of Pistorius, called it a great day for equal rights.
Published by Medicaldaily.com