Orlando Shooting Victims Desperately Need Blood Donations; Gay And Bisexual Men Who Wish To Support Banned From Giving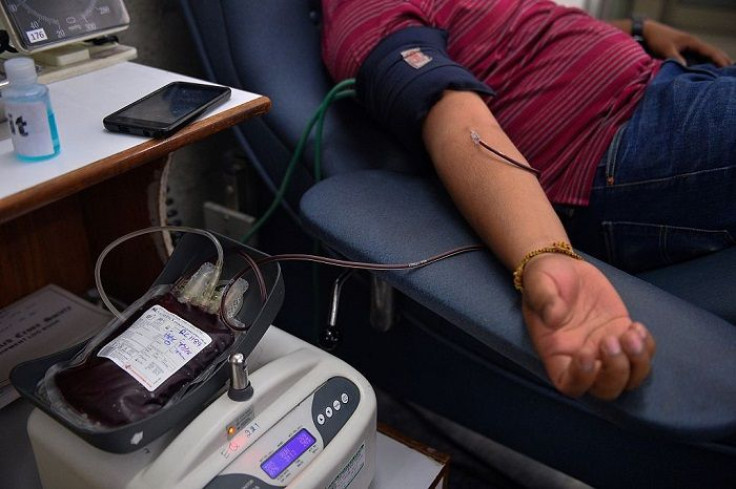 In times of crisis, Mr. Rogers once said, look for the helpers — you will always find people helping. And after this weekend's senseless shooting spree at the gay nightclub Pulse in Orlando, Fla., those people could be found outside and around the block from blood donation centers. OneBlood, for example, reported that more than 5,300 people showed up to their donation center on Sunday alone, a single-day record for the organization. The response was so overwhelming that mid-day they asked all potential donors to stop coming in and schedule their appointments over the next few days. Well, all except sexually-active gay and bisexual men.
It was rumored that OneBlood somehow bypassed the U.S. Food and Drug Administration's policy and wasn't turning anyone away "because blood types O-, O+, and AB are 'especially needed,'" The Daily Beast reported. In fact, Orlando City Commissioner Patty Sheehan, the city's first openly-gay commissioner, was the one who told CNN that that was the case.
"They lifted the ban on gay men giving blood yesterday," she said. "They've been able to test for HIV in the blood system for years, and this is what it took to allow gay men to finally be able to give blood. And they lined up. There were 1,500 people in line yesterday."
However, OneBlood released a statement that said they were in compliance with FDA guidelines, which, in Orlando, still bans gay and bisexual men from making donations outright despite the fact the ban has been lifted. Elsewhere in the county men who have sex with men can make donations provided they've abstained from sex within the past year.
Still Banned
Susan Forbes, a spokeswoman for the blood bank, told Bustle that the OneBlood locations in Orlando can't accommodate gay and bisexual men in any capacity because they have yet to complete the necessary changes in their blood bank computer systems.
"We are working to implement those new policy changes, but the previous donor policy remains in effect at our centers because we need time to implement it," Forbes told Bustle. "We anticipate it to be there in the very near future."
These FDA policies were initially enforced in 1983 as a way to reduce the human immunodeficiency virus transmission (HIV), even though multiple tests are performed on each sample to make sure they won't risk recipients' health. As Sheehan noted, this includes testing for HIV, as well as other infectious diseases such as syphilis and the West Nile Virus. According to the FDA, the one-year deferral is in place since tests do not immediately pick up on recent HIV infections — it takes about one to three months after exposure to show up on tests. They also stated this falls in line with several other countries, including Argentina, Brazil, Japan, and the United Kingdom.
But as the years have passed, blood testing has gotten more precise. Two years after the ban was implemented in the early 80s, Abbott Laboratories developed an HIV blood-screening test that was licensed and used by blood banks across the world. Soon after tests were developed to screen for hepatitis B and C, two liver diseases that gay and bisexual men have a higher chance of contracting; as well as test for HIV-1 and HIV-2 antibodies. In 1999, blood banks rolled out Nucleic Acid Amplification Testing — which can detect genetic material of HIV 10 to 12 days after infection. And in December 2014, Newsweek reported that the FDA approved the Intercept Blood System, "the first technology that eliminates all potential pathogens from donor blood."
Now, blood will only be accepted for transfusion in the U.S. if it comes up negative for HIV, hepatitis, and other infectious agents. In fact, blood testing and technology has become so advanced that surgeons are looking to organ transplantation between HIV-positive individuals. Earlier this year, Johns Hopkins surgeons performed the first organ transplant between HIV-positive patients, while Governor Jerry Brown signed a bill in California that legalized HIV-positive donation.
Risky Lifestyle
It's not just that there are holes in the FDA's reasoning for enacting a year-long provision for gay and bisexual blood donors — it also assumes that every man lives a risky lifestyle. Under this ban, a married or monogamous man who uses condoms with his partner is no different than a single gay man who engages in more risky sex, the New York Times pointed out in a 2014 op-ed. But promiscuous straight people who engage in similar behavior are not subject to a year-long deferral. And risky sex is had among all men and women, especially young people. In 2013, the Centers for Disease and Control Prevention reported that 41 percent of sexually active high school students did not use a condom during their last encounter, with nearly 10,000 young people diagnosed with HIV infection in the U.S.
Countries like Italy and Spain conduct an individual risk assessment of sexual behaviors, screening for things like unprotected sex or multiple sex partners, and turns donors away as high-risk people on a "case-by-case basis." A 2013 study found that Italy's policy, which went into effect in 2001, does not cause a disproportionate increase of HIV-positive gay and bisexual men compared to heterosexuals. Specifically, the rate of HIV-positive cases per 100,000 donors was more than 2-fold higher among gay and bisexual men, and heterosexuals saw a 1.5-fold increase. The study also revealed that the majority of HIV-positive donors reported sexual exposure as a risk factor. These findings suggest that the current FDA guidelines are out-of-step with current research.
"I tried to donate blood and I got turned away for being gay so I just feel helpless, scared, sad, angry," Orlando resident Michael Erwin told ABC News.
The silver lining is that those who were hurt and unable to help their own community, like Erwin, are coming together to demand change. Already, Newsweek said six members of the U.S. Congress have written to FDA Commissioner Robert M. Califf, asking he completely lift the ban.
"The underlying homophobia is still there," Santa Clara County Supervisor Ken Yeager told ABC News. Currently, to be a blood donor, people have to be at least 17 years old and weigh at least 110 pounds. In addition to being a sexually-active gay or bisexual man, donors are turned away if they've ever exchanged sex for money or drugs; engaged in intravenous drug use; have traveled internationally to certain locations; and have an illness.
Published by Medicaldaily.com