Bonnaroo Sign Language Interpreter Upstages Wu-Tang Clan, Highlighting Music Accessibility for Deaf and Hard-of-Hearing [VIDEOS]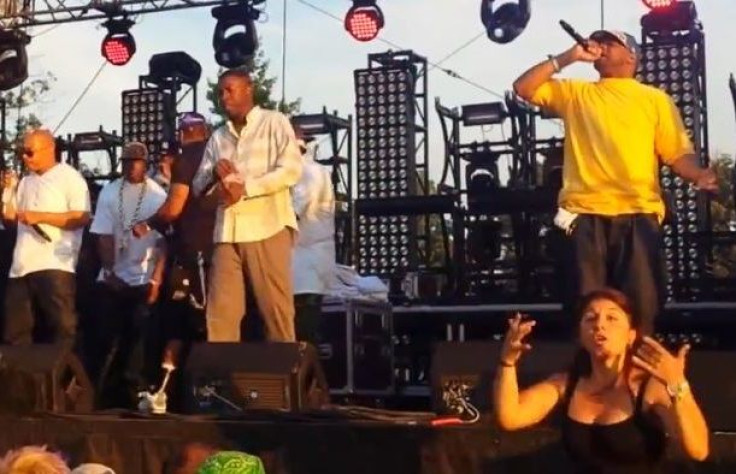 An American Sign Language (ASL) interpreter stole the show from the Wu-Tang Clan and R. Kelly at the Bonnaroo Music and Arts Festival in Tennessee last week, translating lyrics with her hands more emphatically than the performers verbalized them.
Viral videos from the Bonnaroo sets of the Wu-Tang and R. Kelly show the highly versatile ASL interpreter, identified only as Holly, doing triple duty, signing the lyrics, mouthing the words, and dancing more expressively than anyone else on stage.
Holly's rapturous reception on the Internet — Stereogum called her one of the "9 Best Things" about this year's Bonnaroo festival — represents the major strides that have been made for the almost 10 million deaf and hard of hearing Americans in the past two decades.
Since the federal Americans with Disabilities Act (ADA) of 1990 began requiring businesses and service providers to provide effective communication for people who are deaf or hard of hearing, ASL services have flourished in the United States.
ASL, the primary language of many people who are deaf or hard-of-hearing in North America, is a complex language that combines hand gestures, facial expressions, and body postures — an inherently expressive form of communication that has its own grammar and usage rules separate from spoken English.
A high watermark for ASL visibility occurred in the aftermath of Hurricane Sandy last year, when ASL interpreter Lydia Callis upstaged Mayor Mike Bloomberg of New York City during video press conferences with her animated work, drawing attention to the vital work of the language services industry.
Like many major music festivals in recent years, Bonnaroo makes an American Sign Language team available to interpret live performances for deaf or hard of hearing concertgoers.
As the videos of Holly make apparent, merely signing the lyrics is just one part of the job description — the best of the interpreters enhance the performance, embodying the entire musical experience that the main artists hope to convey.
This work is exhausting, noted an article in the Washington Post, requiring critical thinking to interpret vague or multilayered lyrics as well as tremendous energy.
Holly's fluid performances with Wu-Tang and R. Kelly were so compelling "because it takes quite a lot of time for the interpreters to study and practice the music," notes Bonnaroo's Access Guide. In order to optimize the festival experience, Bonnaroo organizers ask patrons to request ASL interpretation for particular acts as early as possible.
If Holly is any indication, the Bonnaroo ASL interpreters are particularly well suited to their jobs. As Stereogum noted, Holly "didn't just sign every word, but put back into it."
In the spirit of the festival, she was also game for improvisation. When Matt & Kim called her onstage, Holly didn't hesitate to satisfy their requests to demonstrate the signs for "vagina" and "Bonnaroo."
Here's footage of Amy, another Bonnaroo ASL interpreter, translating R. Kelly during a separate performance:
And some more Bonnaroo sign language interpretations from previous years, though none as thoroughly entertaining as the previous videos:
Santigold in 2009:
Nine Inch Nails in 2009:
Ray LaMontagne in 2011:
Ben Folds Five in 2012:
Phish in 2012:
Published by Medicaldaily.com