Bono, British stars gather to record Band Aid single for Ebola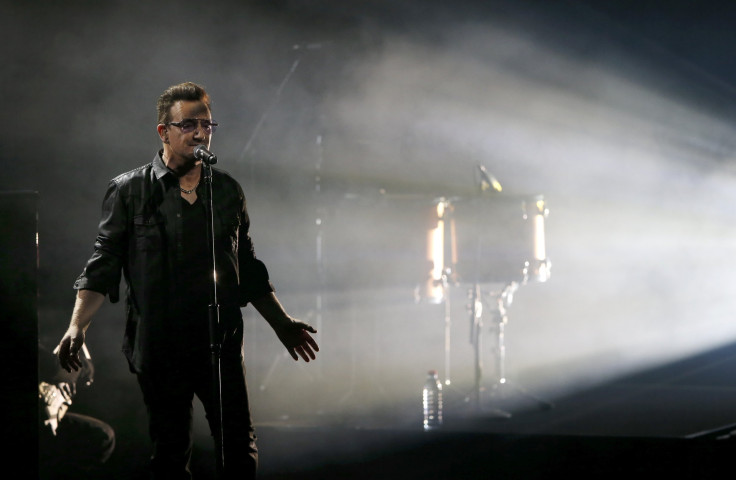 LONDON (Reuters) - Boy band One Direction and U2 lead singer Bono joined some of the biggest names in British pop and rock music on Saturday to record a new version of the Band Aid charity song to raise money to combat Ebola in Africa.
The single, "Do They Know It's Christmas?", was first recorded 30 years ago after musician and philanthropist Bob Geldof inspired a host of stars to come together under the Band Aid name to help those affected by famine in Ethiopia.
The song has been given a makeover, with words to the original version which he co-wrote with Midge Ure changed to reflect the current crisis.
"The record, it's a song, it's a track but it's an event, and the next stage now is to turn it into a phenomenon like it was in the 80s," Geldof told BBC TV as he arrived at a recording studio in west London.
He said he had spoken to British finance minister George Osborne who had agreed to forego the usual tax owed to the government from sales of the record.
"It very much reminds me of 30 years ago. Everyone's bleary, pop singers, as George Osborne said, are not very good in the morning," said Geldof, who was frontman for Irish new wave band The Boomtown Rats.
The original song from 1984, which raised 8 million pounds ($11 million), featured some of the era's biggest acts including U2's Bono, George Michael and David Bowie. It has been re-recorded twice in 1989 and 2004.
Bono will be joined this time by Robert Plant, frontman of rock band Led Zeppelin, Coldplay lead singer Chris Martin and singers Ed Sheeran and Sam Smith.
"It's huge to be involved," Niall Horan from One Direction told the BBC. "Hopefully it goes to number one and raises a lot of money for a really worthy cause."
Geldof earlier this week he decided to remake the single after the United Nations contacted him, saying help was urgently needed to prevent the disease from spreading beyond West Africa.
Ebola has killed more than 5,000 people since it broke out in West Africa earlier this year according to the World Health Organization, mostly in Sierra Leone, Liberia and Guinea.
(Reporting by Michael Holden, editing by Louise Heavens)
Published by Medicaldaily.com