Boost Calories Burned Walking When You Revamp Your Form And Route (Hint: Find Hills)
Walking may not be as sexy a sport as running, but it can certainly be just as effective. That is, if you learn the many ways you can hack your form and regular route for maximum calorie burn.
Don't worry if you don't: The bloggers behind SuperSkinnyMe.com have rounded-up all the tricks of the walking trade and combined it into a pretty, shareable infographic (embedded below). The first factor to consider is posture. "Walking with good posture means your back and butt muscles can work more powerfully, and you'll be able to walk faster and boost calories burned walking," the bloggers wrote. "Good posture can be summarized in this: Walk tall. Keep your shoulders back, down, and relaxed (not high and tight!), your eyes looking ahead and your chin level."
They're not wrong. Research published in the Journal of Exercise Physiology found leaning forward on the Cybex Arc Trainer — a super legit elliptical — with the upper body anchored burned more calories than remaining upright and supported by the machine's handles. Better yet, this effect extends beyond the elliptical. "Our research, along with other related studies, suggest that your body orientation and posture during all forms of cardiovascular exercises can have a significant effect on what your body will experience during the exercise," Paul Juris, executive director of the Cybex Research Institute, told Fit Bottomed Girls.
A similar study published in the Journal of Behavior Therapy found participants who walked in a more depressed style (less arm movement and their shoulders rolled forward) were in worse moods than those walking in a happier style. If you're walking happily up a hill, you can increase your calorie burn by an additional 50 percent, Tom Holland, exercise physiologist, running coach and author of The Marathon Method, told Shape.
Check out the infographic below for other factors, such as speed, intervals, and tools like weighted-vests and walking poles, to ramp up your workout.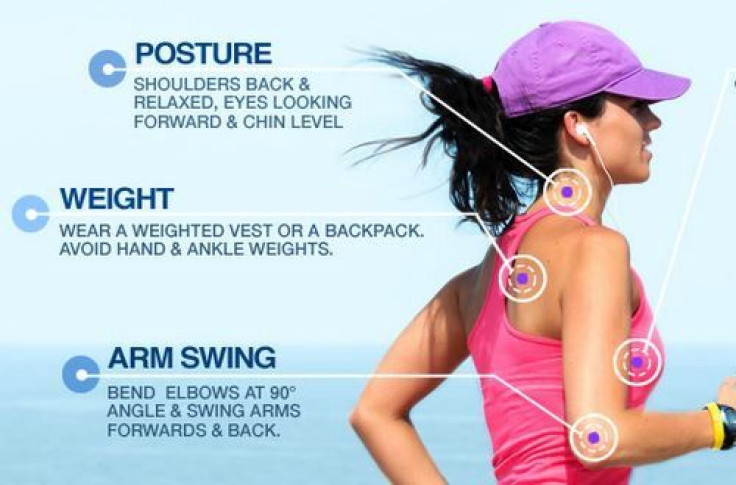 Published by Medicaldaily.com