Boston Marathom Bombings' Last Victim, Preschool Teacher Erika Brannock, Bids Farewell To Hospital And City; Beginning New Life In Baltimore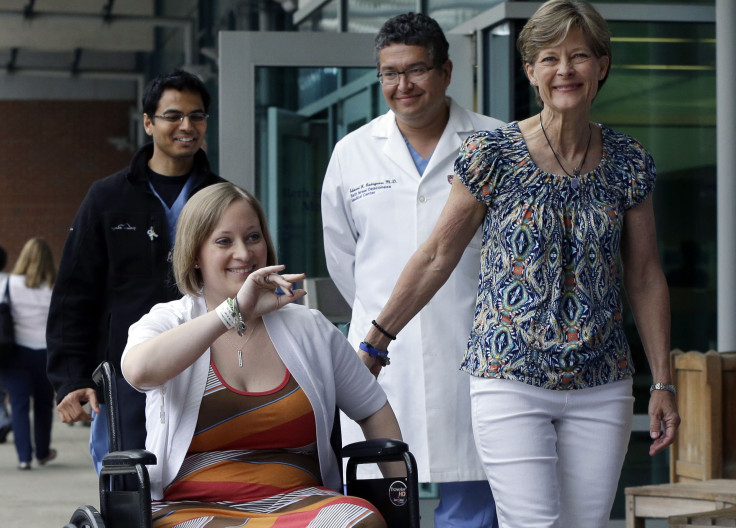 The last victim of the Boston marathon bombings, preschool teacher Erika Brannock is ready to return to her students and family in Maryland after recovering for 50 days in a Boston hospital.
Brannock, 29 years old, lost part of her left leg following the bombings that took place seven weeks ago.
With a scrapbook in hand adorned with dragonflies, Brannock said her byes to the hospital staff and friends. To Brannock, these flies are symbol of new beginnings.
She and her sister Nicole Gross were supporting their mother Carol Downing, 57, at the end of the finish line when Gross remembered being thrown back from the impact of the first bomb.
Gross was admitted into Brigham and Women's Hospital where doctors said both her legs were broken and her hearing also impaired. Gross is now at home and walking.
Brannock was recovering in the Beth Israel Deaconess Medical Center where her mother said she was almost unrecognizable. Now, Brannock faces a long road to recovery with months of rehabilitation before being fitted for a prosthetic leg to help her walk again. She will be moving in with her mother in Monkton, Md. in the suburbs of Baltimore.
Brannock's friends have begun a fundraiser to help her with living expenses and recovery. Her prosthesis procedures entail replacing a "synthetic skin" periodically to prevent the skin from wearing away and becoming infected. The cost of this would amount to $85,000.
Brannock now plans to see her preschool students graduate in Maryland and attend a friend's wedding as the maid of honor the next day. She also has voiced her excitement to feast on steamed crabs.
"I will use what I've learned to pay it forward," she wrote in a statement, reported by The Boston Globe. "I know the road ahead won't be easy, but I will remain Boston Strong as I move forward. Thank you, Boston."
Published by Medicaldaily.com