Boston Marathon Bombing Suspect Dzhokhar Tsarnaev In Court: 'Emotional Day' For Survivors Of The Attack [VIDEO]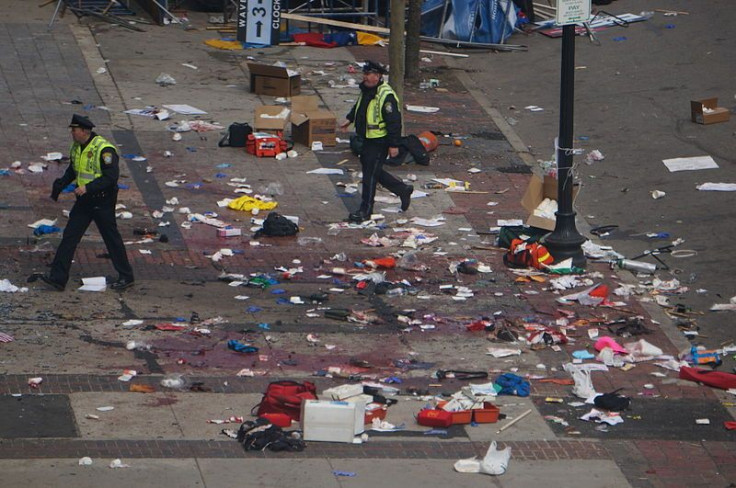 Dzhokhar Tsarnaev arrived at a federal courthouse in Boston Wednesday set to make his first public appearance since being arrested in April for setting off bombs at the end of the annual Boston Marathon that killed three people and injured 260 others. Many of those injured as well as the families of the victims will be present at the hearing.
"People were killed, many others lost limbs. Dozens and dozens continue to suffer," said former U.S. Attorney Michael Sullivan. "It's an emotional day because of the horrific harm that he caused so many innocent people."
Tsarnaev faces 30 federal counts including using a weapon of mass destruction and causing the deaths of four people. Included in that count is MIT police officer Sean Collier, who was killed by the Tsarnaev brothers in the days after the attack as the city of Boston remained on lockdown. Tsarnaev's older brother and co-conspirator, Tamerlan Tsarnaev, died in a shootout with police.
Nineteen-year-old Tsarnaev will be eligible for the death penalty if convicted. "I expect to hear an emphasis on the victimization, especially the deaths, because that's what triggers death-penalty eligibility," said Gerard T. Leone, a former federal attorney.
Tsarnaev's indictment said that he wrote about his motivations for the attack on the walls of the boat he hid in before police captured him, according to USA Today. "I don't like killing innocent people," he wrote. "I can't stand to see such evil go unpunished. ... We Muslims are one body, you hurt one you hurt us all."
Survivors and families of victims are expected to appear in court to see Tsarnaev for the first time since the attack. Emotions are running high, and families have not shied away from vocalizing their feelings on this difficult day.
"It has been incredibly hard to accept what happened to my boys,'' Liz Norden, whose sons Paul and JP each lost a leg in the attack, told ABC News. "I'm angry. I want to be there."
There is still no word on whether the Richard family, whose eight-year-old son Martin was killed in the attack and whose seven-year-old daughter Jane lost her left leg, will be in court for today's hearing. Martin and Jane's parents have remained amazingly optimistic in the weeks and months following the attack, focusing on the family's healing rather than the fate of Tsarnaev.
"Our focus as a family remains on healing from our injuries, both physical and emotional," the family wrote in a statement on May 9.
Published by Medicaldaily.com