Boy, 5, Hurt On Coney Island Roller Coaster After Jumping Off Moving Car Onto Tracks, Suffers Broken Femur And Cuts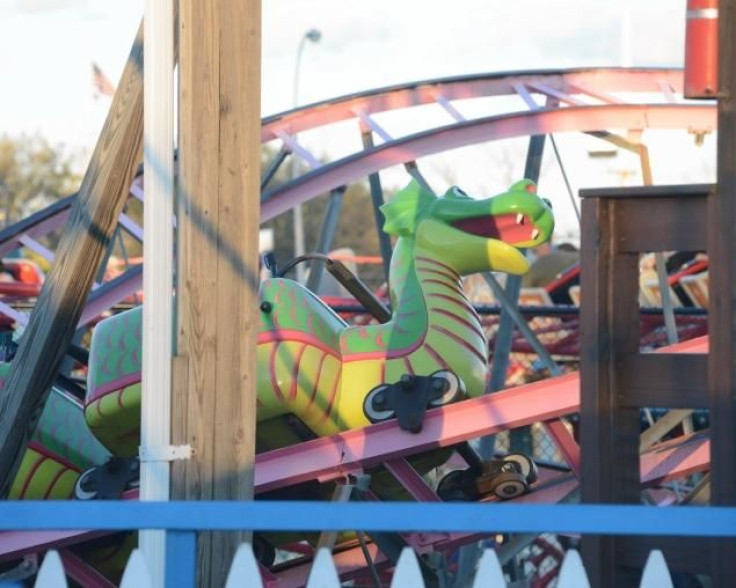 A five-year-old boy jumped onto the tracks of a moving kiddie coaster at Coney Island Wednesday night, after sliding under the lap bar in an apparent attempt to get off the ride, the Daily News reported.
Officials said the boy became afraid while riding the Sea Serpent Roller Coaster at Deno's Wonderwheel in Coney Island around 7 p.m. Although his safety lap bar was secured, the boy reportedly shimmied underneath and exited the car in which he and his seven-year-old sister were riding, said Dennis Vourderis, vice president of the park.
After jumping, the boy's leg got trapped between the car and track, Vourderis said. The boy's sister also received minor leg injuries and was sent for treatment at Lutheran Medical Center, though it is unclear whether she jumped as well.
"Our prayers for a speedy recovery are with the young man and his family," Vourderis said.
The boy's mother watched in horror as her son's leg got caught in the roller coaster. Some witnesses feared he would lose his leg. When he was released, others thought he may have been unconscious.
"He was on the inside of the tracks. He had cuts all over and he wasn't moving," witness LeRoy Mace, 40, told the Daily News. "I don't think he was conscious. He was on the tracks for at least 20 minutes before they pulled him off."
In the park's 15-year history, no event similar to this has ever happened, Vourderis reported. A safety inspection of the ride two weeks prior to the incident came back saying everything was in working order. Both passengers met the ride's height requirement.
"He climbed out of the car at the top of the hill and fell in between the cars," said Vourderis, adding that the boy fell about 1.5 feet down to the track.
Vourderis announced the incident soon after the boy was taken for treatment on a stretcher, sustaining a broken femur and cuts to his legs and head.
"A young rider on the Serpent coaster who met the height requirement unfortunately crawled under the lap retaining bar tonight, and jumped off the ride before it had stopped," he said. "The ride is an inspected, approved ride and there has never been an incident before in its 15-year history here at Coney."
Published by Medicaldaily.com