Brad Paisley, Wife Kimberly Williams Fell For Online Cancer Hoax: Woman Pretended To Have Dying Daughter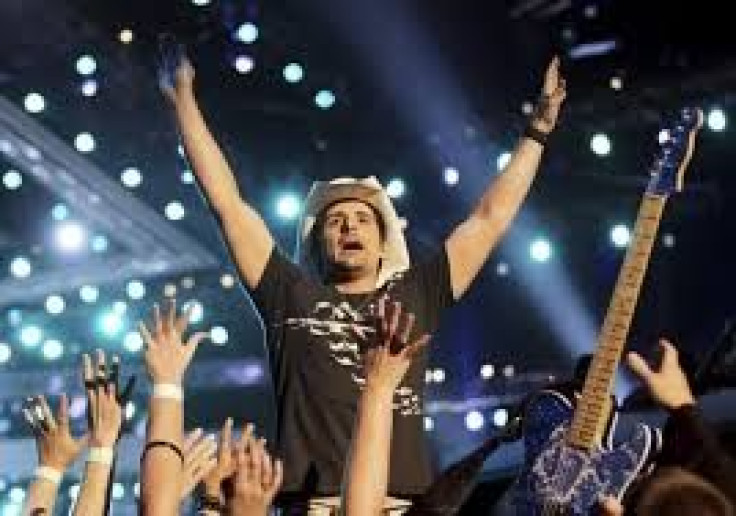 When Brad Paisley and his wife Kimberly Williams-Paisley received an e-mail from a woman named Carrie who was hoping they could provide some comfort for her cancer-stricken daughter, the couple was more than happy to comply. Over the course of 10 days, the country music singer and actress exchanged e-mails, text messages, and even phone calls with a young girl named Claire who they thought was suffering from a deadly form of brain cancer, only to find out the entire story was a hoax.
"A couple weeks ago Claire asked me if I could 'find' Miss Kimberly for her. I told her I would do my best but made no promises. Well, to be honest with all the chaos and excitement that ensued with Claire coming home from the hospital with hospice, I forgot," read the e-mail obtained by ABC News. "However Claire reminded me earlier today. I asked Claire why it was so important for me to find miss Kimberly for her she said, 'Mommy miss Kimberly deserves to know how much she has helped me. She left fingerprints on my heart.' After hearing that I decided I would do whatever I could to let Kimberly know about Claire."
Any doubts Brad and Kimberly had were wiped away when they started to receive journal entries and photographs of Claire who, according to her "mother," was suffering from neuroblastoma. Neuroblastoma is rare form of brain cancer that accounts for six percent of all childhood cancers and is often considered deadly.
"She said that her daughter had begged her to get in touch with me," Kimberly told Nightline. "So it sounded very sort of real, but she wasn't dying to get a hold of me. You know, that was kind of the beginning of the manipulation."
In the midst of ongoing communication, which included a rendition of "Amazing Grace" that Brad performed over the phone for "Claire," the couple was heartbroken to learn about her passing. When the pair tried to send an arrangement of flowers for the young girl's funeral, they were told to forward donations to their local children's hospital.
Red flags started to arise after they received an e-mail from Carrie with a particularly despondent tone regarding her "daughter's" passing. "I don't need you to pray for me. Doesn't seem like god hears much of anything these days," the con artist said via e-mail. Brad and Kimberly were especially disturbed to find out that the pictures of "Claire" were actually of a little girl from California who is suffering from neuroblastoma.
"That's the sickest part about this to me," Brad told Nightline. "That is the part that when I start to talk about that, that's when I get really mad. That there were real kids, that there were real photos involved."
Brad and Kimberly's story is part of a Nightline segment that debuted this past Wednesday and featured other celebrities who were fooled by the hoax including Wipeout hosts John Henson and Jill Wagner, reality star Kate Gosselin, and a portion of the Dallas Cowboys cheerleading squad. Nightline was able to track down the online con artist to a campground in Wyoming.
Published by Medicaldaily.com