World Cup Champ Brandi Chastain Will Donate Her Brain For Research On CTE In Soccer Players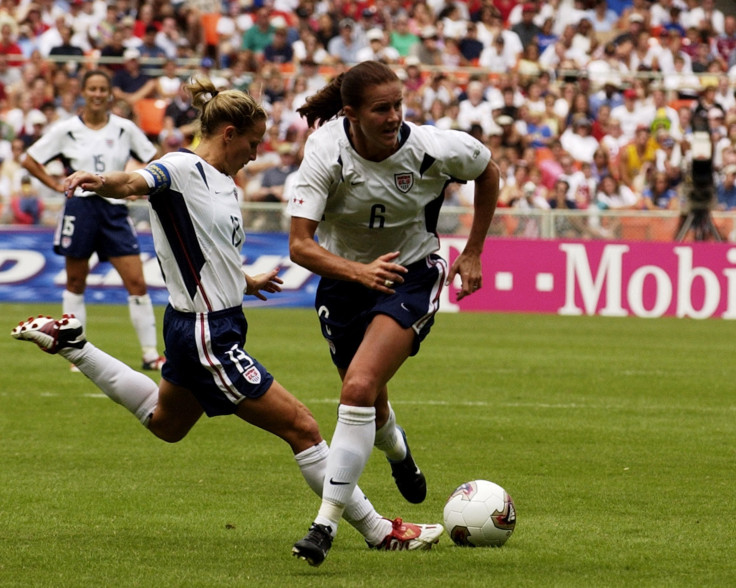 The soccer star who once inspired a nation with her winning shootout goal (and jubilant celebration) during the 1999 World Cup final is stepping back into the limelight to help accomplish an even more important objective — gaining a better understanding of chronic traumatic encephalopathy (C.T.E) in soccer players.
Earlier this Thursday. the Concussion Legacy Foundation announced that Brandi Chastain, who played for the United States women's national soccer team from 1988 to 2004, will donate her brain to the foundation, whereupon it will be studied by researchers from the C.T.E. Center at Boston University, one of the foremost pioneers in the field.
"With more information, the greater public can make better choices. I won't be witness to the results when I donate my brain, and I hope that day is a long way from today, but I'm hoping that my donation helps change things for the positive," Chastain said in an interview with the Foundation. "I hope my experience in soccer and what I am able to give back helps put soccer in a better place than it was when I started."
Of course, the majority of the ongoing publicity surrounding C.T.E., a degenerative brain condition theorized to be caused by repetitive brain trauma, has centered around football (and occasionally boxing). But while soccer is generally viewed as safer than either sport, there have been former male players, such as Brazil's Hilderaldo Bellini in 2014 and U.S. semipro Patrick Grange in 2012, posthumously diagnosed with C.T.E..
The danger with soccer is mostly thought to come from the widely cheered headers players such as Chastain have eagerly participated in their entire careers — blows sharp enough to cause both noticeable concussions and perhaps more invisible subconcussive damage. Both scenarios are ones that Chastain, now 47 and a mother, can't help but worry about, having played soccer since she was a small girl.
"I can't even attempt a guess at how many times I've headed the ball. It's a significant number," she said. "It's scary to think about all the heading and potential concussions that were never diagnosed in my life, but it's better to know."
Chastain's decision is particularly poignant given that some research has shown that the rate of concussions among girl soccer players is actually 68 percent higher than it is among boys and that teens girls are more likely to get concussed while either playing soccer, basketball, or biking.
As noted by the Foundation, there have already been some positive steps taken to cut down on the risks youth players face, with U.S. Soccer announcing last November that its youth national teams would prohibit heading for all children under the age of 11 and restrict its practice for those aged 11 to 13. Chastain hopes these initiatives go even further someday soon.
"We'd love U.S. Soccer to stand up and say, '11 is still too young. Let's protect these kids even longer.' And what we're pushing for doesn't just apply here in the U.S., it's really on a global scale," said Chastain, herself a Volunteer Assistant Coach at her old college, Santa Clara University. "Soccer has a great influence on the world, and it has the opportunity to stand up and make a statement that as a unifying organization it wants to really make a difference in the lives of people, especially the youngest and most vulnerable people playing its sport."
Published by Medicaldaily.com