Breast Cancer Rates Remain Constant, But Preventive Double Mastectomy Is On The Rise: What's The Deal?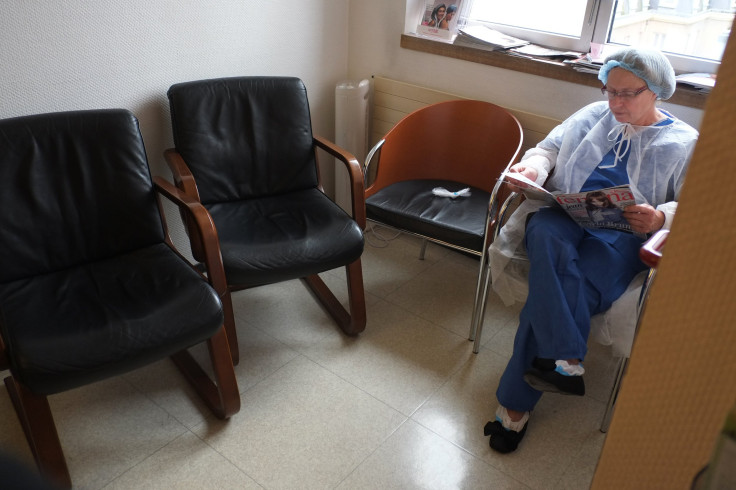 More women are opting for preventive double mastectomy, according to a new statistical brief from the Agency for Healthcare Research and Quality (AHRQ).
Mastectomy, the surgical removal of the breast, is commonly used to treat breast cancer; women can choose between unilateral (one breast) and bilateral (two breasts) removal. But while breast cancer rates "remain constant," the surgical procedure continues to rise. Between 2005 and 2013, the overall mastectomy rate increased 36 percent, from 66 to 90 per 100,000 adult women. And the rate of hospital-based bilateral mastectomies more than tripled, from 9.1 to 29.6 per 100,000 adult women, according to the brief.
The rate of bilateral outpatient mastectomies has increased more than fivefold compared to a nearly tripled inpatient rate — outpatient means women go home that same day. More women with cancer in one breast are opting to remove the other, healthy breast, and possibly at a younger age too: AHRQ found women having double mastectomies were an average age of 51 compared to women having single mastectomies, at age 61.
Brief co-author Dr. Claudia Steiner, a senior researcher at AHRQ, told Medical Daily this data continues the trend of prior studies that have found an increase in bilateral mastectomy. Since Steiner and her colleagues only looked at billing data, they can't say for sure what's motivating women to do so, but suggest it's generally a result of "physician advice, fear of subsequent breast cancer diagnosis, desire for cosmetic symmetry, family history, and genetic susceptibility due to BRCA1 and BRCA2 genetic mutations." In fact, a recent study published in JAMA Oncology found the rate of genetic testing is increasing in young women with breast cancer, which may be prompting them to opt for bilateral mastectomy.
On the one hand, it's inspiring to see more women, especially at a younger age, take control of their health. But some of the data concerns some experts, including Steiner. The majority of women included in the brief did have cancer in at least one of their breasts, but there were some women (although at a very low rate) opting for the surgery without having cancer in either of their breasts. And per the data, 97 to 99 percent of breast cancers occur in only one breast.
What's going on?
"There's two sides to this coin," Dr. Benjamin Smith, radiation oncologist at the MD Anderson Cancer Center in Houston, told Medical Daily. "On the one side, collectively, we do a lot better identifying genetic mutation and … offering risk-reducing surgery, like double mastectomy. It's a real victory for the breast cancer story to be able to identify women at high risk. But on the other side, for a complex array of both medical and sociological reasons, double preventive mastectomy offers very little benefits to many women who are asking for it — that's a concern."
Recently, Smith said, one of his patients who was scheduled to start radiation had called and said she now wanted a double mastectomy "because she couldn't sleep." Some women believe the surgery "will help alleviate anxiety and recurrence risk," but to Smith, these women are not looking at the big picture. Without the genetic mutation, preventive mastectomy may do little to improve women's health.
It's understandable women experiencing cancer anxiety and worry brings them into the office. "If I were a patient, it would make sense to want to do anything to get rid of the problem," Smith said. But, doctors need to counsel patients on the true benefits and harm of the procedure.
For example, double mastectomy often goes hand in hand with reconstructive surgery. Per Smith, two-thirds to three-fourths of women opting for bilateral mastectomy also want reconstruction. But back in December 2015, at the San Antonio Breast Cancer Symposium, Smith and his colleagues presented their study that found mastectomy alone was "a high-value intervention" until women added reconstruction.
"When you add reconstruction, costs and complications go up a lot," he said. "It goes great for some women, but there are a meaningful proportion of patients who suffer from that choice and have complications ... That's a lot of surgery to go through. It's a reasonable decision if you have the genetic mutation, but if not, you're exposing yourself to a lot risk."
Both Steiner and Smith noted that the recent surge in women who want a bilateral mastectomy is opposite of what they wanted in the 70s and 80s. Back then, there was a demand for better breast-conserving surgery — a demand mostly led by patients, Smith recalled. This surgery is also known as a lumpectomy or partial mastectomy. It's ironic then, he added, that as "we perfected that, mastectomy is becoming more popular."
"The pendulum has shifted from [the mastectomy] conservation and it's shifting back, and I'm not sure it's necessarily a good thing," Smith said.
That's ultimately what the AHRQ concludes, too. Dr. Rick Kronick, AHRQ Director, said in a statement that "this brief highlights changing patterns of care for breast cancer and the need for further evidence about the effects of choices women are making on their health, well-being and safety."
Source: Steiner CA, Weiss AJ, Barrett ML, Fingar KR, Davis PH. Trends in Bilateral and Unilateral Mastectomies in Hospital Inpatient and Ambulatory Settings, 2005–2013. HCUP Statistical Brief. 2016.
Published by Medicaldaily.com