Breast Cancer Survivors Experience Greater Weight Gain Post-Chemo Than Cancer-Free Women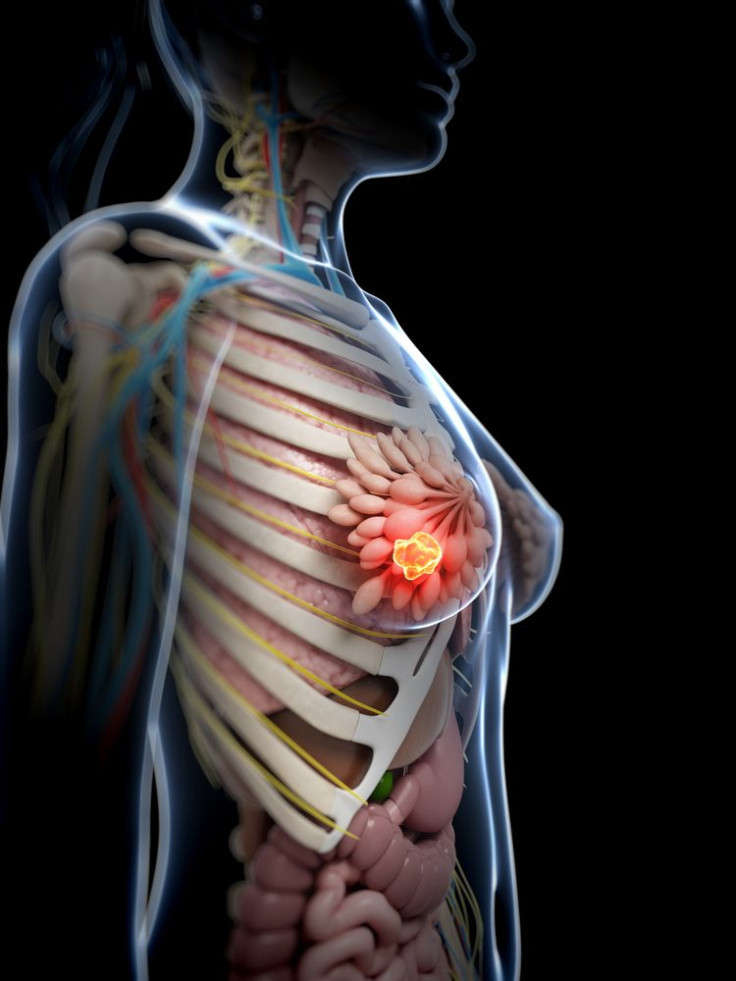 Weight gain after a cancer diagnosis is relatively common and a growing concern for healthcare professionals and cancer survivors alike. Women who have undergone chemotherapy, and steroid treatments for breast cancer often experience weight gain within one year after treatment. What's more, frequent hormone treatments tend to slow down the metabolism in women with breast cancer, making weight gain even more likely, says a 2014 study by the Radiation Oncology department at Thomas Jefferson University. A new study, published in Cancer Epidemiology, Biomarkers & Prevention, is looking more deeply into the likelihood of weight gain after a cancer diagnosis, and how doctors should address potential health outcomes.
A team of researchers led under Dr. Kala Visvanathan, associate professor of epidemiology at Johns Hopkins, compared weight gain in women of the same age and menopausal status, with the only difference being a past of breast cancer. Previous research they had conducted found that, like THU's study, weight gain was often the result of cancer treatment, but up until this point, weight gain was not cross examined with cancer-free peers of similar age groups. The current study sought to find if menopause was the key factor in weight change, or if it was because of cancer treatments.
Visvanthan and colleagues examined 303 breast cancer survivors against 307 cancer-free women of the same age and menopausal status. The cancer-free women also exhibited a family history of breast and ovarian cancer, some possessing the BCRA1/2 gene mutation known to cause cancer. All of these women were then asked to complete a baseline questionnaire known as the T1, and a follow-up questionnaire three to four years after to track weight gain.
Researchers found that, overall, women with breast cancer gained weight more quickly and in greater magnitude than their cancer-free counterparts, indiscriminate of age or menopausal status. Breast cancer survivors who were diagnosed within five years before taking the T1 survey gained an average of 3.81 pounds more than women without cancer. Those who were diagnosed with estrogen receptor-negative invasive cancer, a more acute form of breast cancer, within five years before the T1 questionnaire gained an average of 7.26 pounds more than cancer-free women.
What's more, breast cancer survivors who received chemotherapy, with or without hormonal therapy, five years before the T1 questionnaire were more than twice as likely to gain 11 pounds after treatment than cancer-free women. The study also states that 68 percent of breast cancer survivors received physical activity in line with the American Heart Association's recommendations, but these results seemed to persist anyway.
"Our study showed that women diagnosed with breast cancer and those who received chemotherapy to treat their breast cancer gained more weight within the first five years of diagnosis and treatment than cancer-free women," Visvanathan said in a press release. "This study highlights the need for physicians and their patients, including those with a family history of the disease, to pay closer attention to weight gain during and after treatment. Longer follow-up is needed to confirm the persistence of weight gain in breast cancer survivors and understand the metabolic changes that may be occurring."
Researchers are worried of the potential health repercussions this weight gain could cause, especially for those who just suffered such a trying disease. Overall, researchers found that 21 percent of the women receiving chemo within five years of the T1 survey gained at least 11 pounds.
"This is of concern because weight gain of this magnitude in adults has been associated with increased future risk for chronic diseases like coronary heart disease, hypertension, and type 2 diabetes," said Amy Gross, of the department of epidemiology at the Bloomberg School of Public Health. "We are continuing to follow our study participants to track weight-gain patterns over a longer period of time."
Because this form of weight gain predisposes cancer survivors for these types of chronic conditions, it is important to be vigilant about diet and exercise patterns after receiving cancer treatment; not only could better diet and exercise patterns keep you at a healthy weight, it will improve your strength in fighting off disease in the future.
Source: Visvanathan K, Gross A, et al. Cancer Epidemiology, Biomarkers & Prevention. 2015.
L. Jin, et al., The metastatic potential of triple-negative breast cancer is decreased via caloric restriction-mediated reduction of the miR-17~92 cluster. Breast Cancer Res Treat. 2014.
Published by Medicaldaily.com