Breast Enlargement With A Cookie? Japanese 'F-Cup Cookie' Claims To Increase A Woman's Bust Size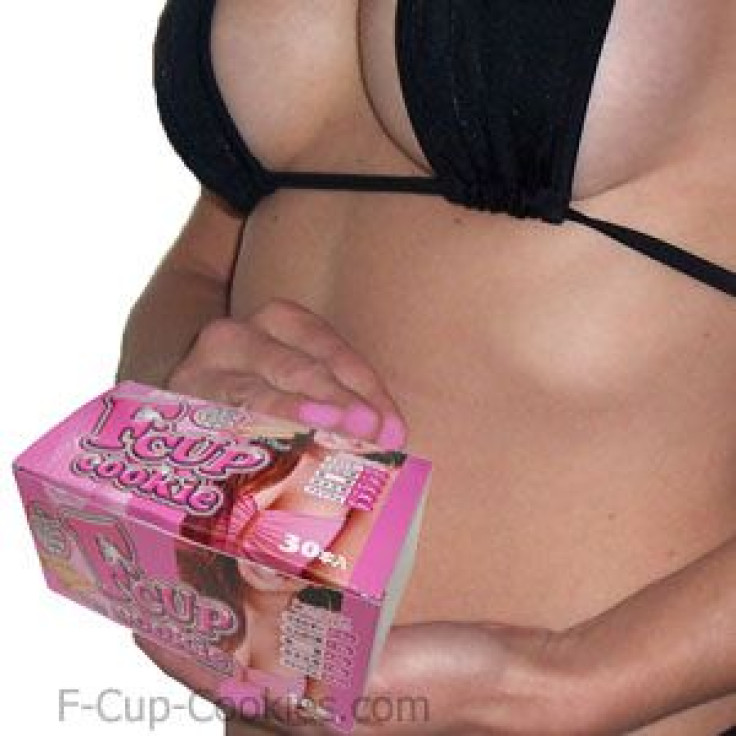 Cookies are sure to make your thighs, stomach, and other parts fatten up, but now a new product from Japan claims that these sweet treats can plump a woman up in a different way. They're called F-cup cookies, and the company claims that if you eat one or two per day, you can safely increase your bust size.
In Japan an F-cup translates to a DD in American bra measurements. According to the site, each F-cup cookie contains 50 milligrams of an herbal breast enhancer, Pueraria Mirifica extract, which is a plant grown in northern and northeastern Thailand and Myanmar. It contains miroestrol, a form of estrogen. It might be cheaper than going under the knife, but the makers do warn that women with pre-existing medical conditions that affect their ovaries, breasts, or uterus should avoid eating these cookies.
If the cookies sound too good to be true, that's because they probably are. According to the Daily Mail, "Phytoestrogens are in numerous foods and to date there is no research to show that ingestion changes breast size," said nutrition expert Ian Marber. "Even concentrated doses haven't been shown to do anything, although eating several biscuits can lead to weight gain with all that goes with it.'"
If you take a look at the website, you'll notice that the cookies are all sold out, but that does not necessarily mean that they're effective. One blogger, Vanessa Voltolina, decided to try the cookies for herself. "For the boob-obsessed out there who want a final verdict? Take two weeks of that hard-earned F Cup Cookie money and get a push up bra from Victoria's Secret. No parched throat or weird, unhealthy side effects. Promise," she wrote.
The cookies might seem kooky, but this isn't the first absurd creation of its kind. Another fad called "Boost Your Bust" claimed to do the same thing as the F-cup cookie with a "breast-enlargement cream" and other recipes by creator Jenny Bolton. "I had gone from A Cup to B Cup within only 4 and a half weeks and I continued to apply the methods for another 6 weeks until I got to C cup size. It was all natural without any pills or creams!" Bolton says on her site.
However, do any of these products work? Some of these supplements might instead promote weight gain, which could look like an increase in breast size, but may merely be an extra layer of fat. To date, there are no Food and Drug Administration-approved oral remedies for breast enlargement.
Published by Medicaldaily.com