Breast Feeding Behaviors Of Neanderthals May Explain Why Modern Humans Had Evolutionary Advantage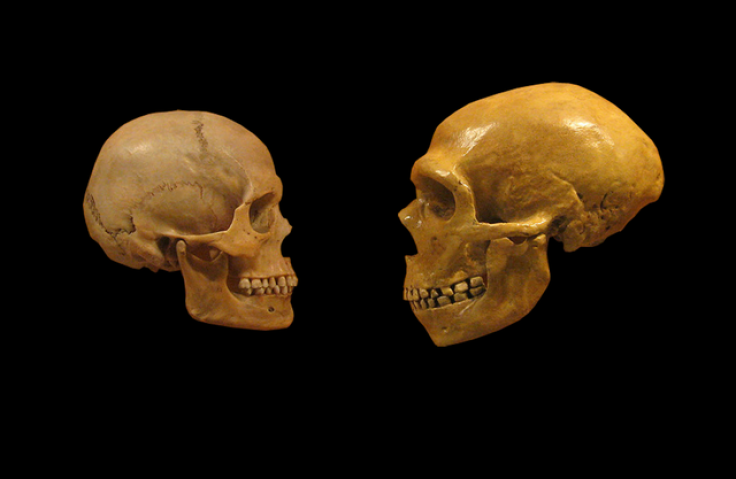 Neanderthal and modern Homo sapiens have their obvious differences and a fair share of arguments have been made that the two may have inbred. But behavioral variances between the brutes and contemporary humans still have to be resolved.
In particular, whether they breast fed differently has yet to be determined, but now these questions can be helped with a little-known metal called barium that has been preserved in the fossilized teeth of Neanderthals.
"It's clear that there are developmental differences between Neanderthals and modern humans--we've amassed good evidence for that in the fossil record," Tanya Smith, co-author and associate professor of human evolutionary biology at Harvard University, told Harvard Gazette. "What we haven't been able to do is make a direct comparison using a biomarker."
Researchers analyzed the dental and enamel rings of natural baby teeth and dietary records from participants and Macaque monkeys. In humans, it revealed that traces of barium increase as breast feeding begins, and then winds down as the infant is weaned off, while Neanderthal molars showed abrupt weaning patterns similar to the monkeys.
"This is a game-changer in many ways, because this will allow us to go to museum collections and look at this as a proxy for how much milk different infants got from mothers and what their weaning process was like," said Katie Hinde, co-author and assistant professor of human evolutionary biology at Harvard University. "We can now look at that within species, but we can also look at that among species. That will tell us about the evolution of how mothers invest in their young."
To understand the weaning age, the investigators performed a chemical analysis of barium in Neanderthal teeth and counted the rings beneath microscopes to compare the levels of the metal to those in the teeth of humans and monkeys, who had dietary histories recorded unlike Neanderthals.
The increase in barium after birth and over time indicates the infant is getting more milk to grow, while the drop would occur when the infant is off the mother's milk.
Digging deeper into the latest findings may also reveal the reproduction age and life span of Neanderthals. Insights into lifestyle choices and changes could eventually help researchers uncover how humans today came to have a major advantage over one of the least understood of ancient hominins.
"People have speculated that an early weaning process in modern humans may have been part of their evolutionary advantage," Smith said. " [We] now have the method to be able to start collecting that data."
Source: Austin C, Smith TM, Hinde K, et al. Barium distributions in teeth reveal early-life dietary transitions in primates. Nature. 2013.
Published by Medicaldaily.com