Breastfeeding May Help Reduce Sudden Infant Death, Mothers' Breast Cancer Risk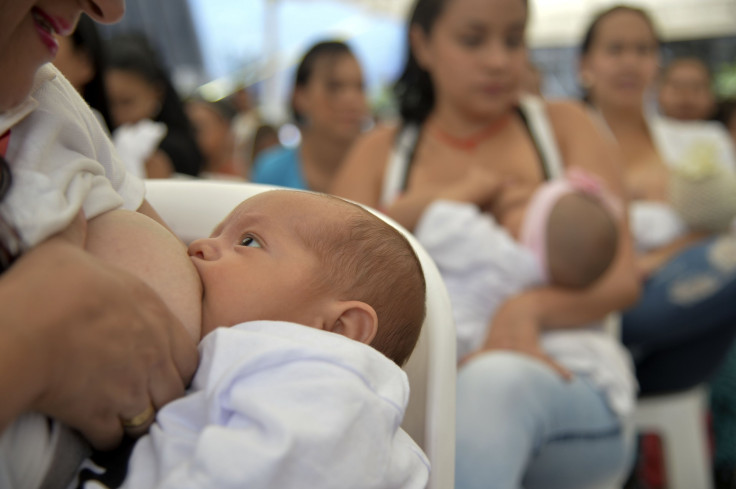 The benefits of breastfeeding extend beyond providing basic nutrition for infants: A two-part study published in The Lancet found the practice could avert the deaths of more than 800,000 children and 20,000 mothers each year if virtually every new mother breastfed her baby.
"Breastfeeding is an exquisite personalized medicine," said Dr. Cesar Victora, lead author of the study, according to Stat. "There is a biological dialogue between mother and child. The breast milk may change according to the child's need."
Despite the many health benefits associated with breastfeeding, including fewer incidences of colds and illnesses in children and a reduced risk of developing Type 2 diabetes in mothers, only 20 percent of infants in high-income countries like the United States are breastfed for up to 12 months. This is compared to low- and middle income countries, where only 37 percent of children younger than 6 months are breastfed. However, the importance of breastfeeding is recognize more in low- and middle income countries than it is in high-income countries.
"Breastfeeding is one of the few positive health [behaviors] that is more common in poor than richer countries, and within poor countries, is more frequent among poor mothers," Victora said in a statement. "There is a widespread misconception that the benefits of breastfeeding only relate to poor countries. Nothing could be further from the truth."
After reviewing 28 studies, researchers found breastfeeding has dramatic effects on life expectancy. For example, in high-income countries, breastfeeding reduced risk of sudden infant deaths by more than a third. And in low-and middle-income countries, breastfeeding reduced about half of all diarrhea episodes and a third of respiratory infections.
For mothers specifically, longer-duration breastfeeding seemed to lower risk of dying from breast and ovarian cancer. Previous studies have also linked this practice to mothers' reduced risk of developing Alzheimer's and diabetes.
Why are rates so low? The study speculates it has to do with the widespread belief women can substitute breast milk without consequence. The infant formula industry is also a lucrative one, reporting $45 billion in sales in 2014 alone.
These sales may be influenced by those who are skeptical of the benefits associated with breastfeeding. A 2014 sibling study found little difference between natural feeding and bottle feeding, while a recent New York Times editorial claimed breastfeeding was "oversold."
Victora says countries can improve breastfeeding rates and practices by modifying interventions and policies. For example, breastfeeding rates in Bangladesh increased 13 percent after the country implemented interventions that included six months of maternity leave, comprehensive health-worker training, community mobilization, and media campaigns promoting breast feeding.
Source: Victora C, Bahl R, Barros A, et al. Breastfeeding in the 21st Century: Epidemiology, Mechanisms, and Lifelong Effect. The Lancet. 2016.
Source: Victora C, Bahl R, Barros A, et al. Why Invest and What it Will Take to Improve Breastfeeding Practices? The Lancet. 2016.
Published by Medicaldaily.com