Breastfeeding May Cut Mothers' Risk of Ovarian Cancer by up to 91 Percent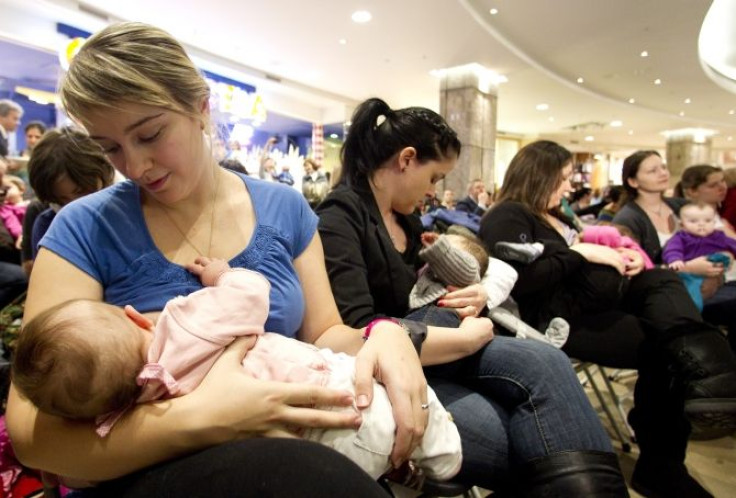 The slogan "breast is best" is intended to highlight the various health benefits that babies receive from breastfeeding. However, a new study highlights that breastfeeding can have health benefits for moms as well. According to the recent study, which will be published next month in the print version of the American Journal of Clinical Nutrition, breastfeeding can cut the risk of breast cancer by up to 91 percent.
In the United States, the American Cancer Society states, the ovarian cancer is the ninth most prevalent cancer in women, excluding the non-melanoma skin cancer. Ovarian cancer is also the fifth leading cause of cancer death for women. Part of the reason that the cancer is so deadly is that spotting the cancer is quite rare; only 20 percent of ovarian tumors are caught early. This is because ovarian tumors are hard to spot from pelvic examinations and because the symptoms for the disease, like abdominal pain, feeling full quickly and having to go to the restroom often, are quite subtle and commonly caused by other conditions.
The study was conducted by researchers at Curtin University in Australia. The study examined 493 patients who had been diagnosed with ovarian cancer. The ovarian cancer patients were compared with 472 controls that were at the hospital for unrelated problems. Both groups were an average of 59 years old. Each of the women were asked about how many children they had and how long they breastfed each one.
The study found that women who breastfed for more than 13 months were 63 percent less likely to develop an ovarian tumor than women who breastfed for less than seven months. The benefits jumped the longer that women breastfed. The researchers found that mothers who had three children and who breastfed for over 31 months were up to 91 percent less likely to suffer from ovarian cancer than women who breastfed for under 10 months.
It is believed that breastfeeding helps prevent ovarian cancer because it can delay ovulation. Researchers believe that the more ovulations occur, the greater the risk of cell mutation, which can trigger the disease.
The Centers of Disease Control and Prevention states that breastfeeding is on the rise, with 76.9 percent of new mothers choosing to breastfeed in 2009. That percentage drops to 47.2 percent of mothers when their infants are six months old, and 25.5 percent of mothers when their babies are 12 months old.
Published by Medicaldaily.com