Breastfeeding Moms Hold 'Nurse-In' At Chik-Fil-A in Knoxville, Tennesse, After Criticism By Employee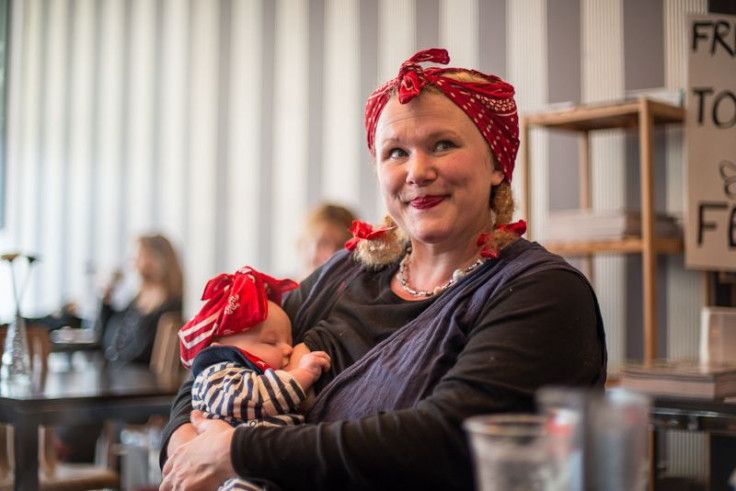 Chick-Fil-A, the popular fast-food restaurant, is at the center of controversy once again. A group of Tennessee mothers organized a "nurse-in" earlier this week after a Chik-Fil-A employee, Jennifer Day, was told by another employee that she couldn't breastfeed her child without a cover.
Day was watching her older son and a friend's son play in the Chick-Fil-A's play area when her 5-month-old daughter, Kahlyn, became hungry, according to CNN.
"Just as I was finishing up, an employee came up and told me other parents were afraid of letting their children play while I was feeding her, especially without a cover," Day told ABC 6 in Knoxville, Tenn.
Read More: The Personality Of Breastfeeding: Extroverted Mothers Less Likely To Use Baby Formula
Day said she didn't use a cover because her baby would end up pulling it off. Regardless, she says the employee shouldn't have come up to her anyway, because she's legally allowed to breastfeed in public.
"It's not illegal to breastfeed anywhere in this country," Jake Marcus, a Philadelphia lawyer and breastfeeding activist, told Yahoo. But she says that "poorly written laws" make enforcement difficult. Since the legal authority for a woman to breastfeed is in the hands of the establishment's owner, who can call the police and say a breastfeeding woman is trespassing if they don't want her there.
Almost 20 women showed up for the nurse in. They said that they were focused more on normalizing the idea of breastfeeding in public rather than embarrassing Chick-Fil-A.
Read More: Breastfeeding Cuts Risk Of Dying From All Cancers By 10 Percent
"We want everything to feel safe. We want nursing mothers to feel safe because what is more family than a mother and her baby, and this is a family restaurant," Day told ABC 6.
Breastfeeding is recommended exclusively until 6 months and as an adjunct to food until a child turns 12 months old. However, for a number of reasons not limited to stigma against public breastfeeding, only 35 percent of women breastfeed past six months. In the UK, breastfeeding rates drop from 81 percent at birth to only 25 percent by six weeks.
This past week was also World Breastfeeding Week, during which a number of moms breastfed in protest against wider criticism for breastfeeding in public. Nurse-ins were staged from Texas, where a mom was recorded being criticized, to Greece, where a nurse-in was held after a woman was forced to leave a restaurant for feeding her child.
Chick-Fil-A also took steps to remedy the problem, releasing a statement on behalf of the restaurant's manager apologizing for "any offense he may have caused." Additionally, the restaurant is working with the East Tennessee Breastfeeding Coalition, a non-profit that promotes breastfeeding, to develop training that will educate employees about breastfeeding laws. "They've been very receptive," Sherri Hedberg, chair of the organization, told ABC 6.
Published by Medicaldaily.com