Bridesmaids Star Melissa McCarthy Reacts To Critic's 'Female Hippo' Comment; The Role Of Female Body Image In Hollywood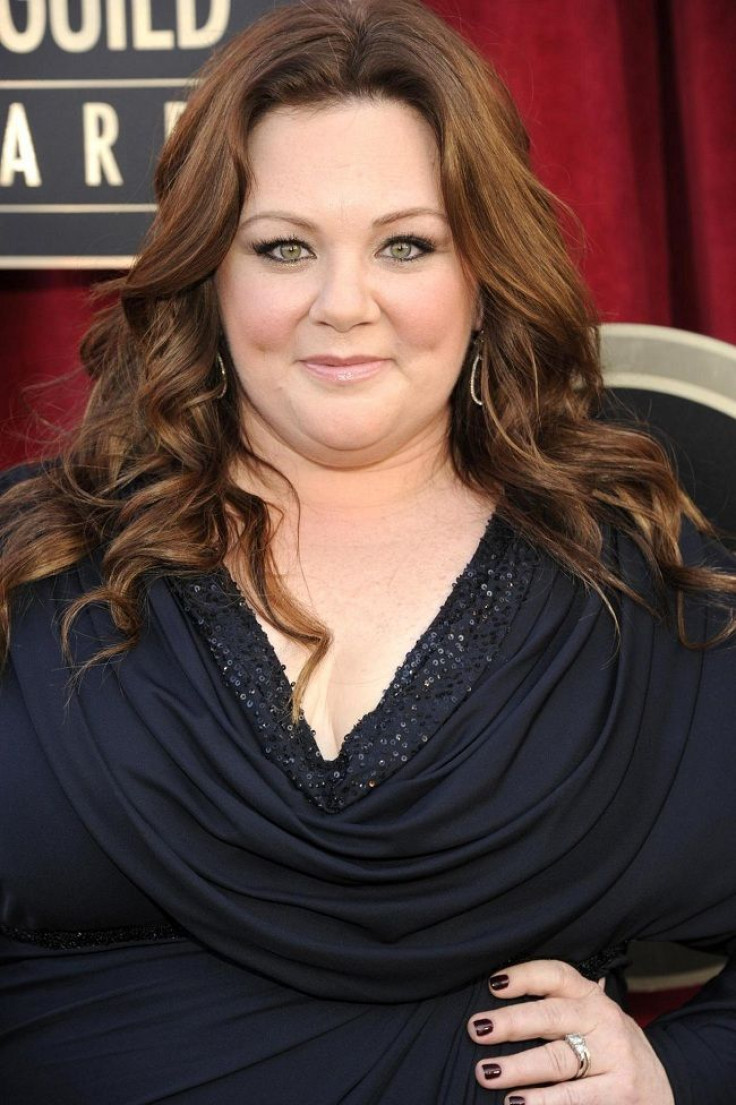 Melissa McCarthy has finally responded to a critic's February review of her recent movie, Identity Theft, that called her "tractor-sized" and described her as "a gimmick comedian who has devoted her short career to being obese and obnoxious with equal success."
Initially, McCarthy did not respond to the excessively cruel remarks, written by critic Rex Reed for The New York Observer. When she was directly asked about the review over lunch in April, she became sullen and serious as she said in a soft tone, "Really?" and then, "Why would someone O.K. that?"
The characteristically upbeat McCarthy, now 42, said in an interview with The New York Times, if the remark had been made when she was 20, it might have "crushed" her. As a mother of two, she said, "Remarks like those, just add to all those younger girls, that are not in a place in their life where they can say, 'That doesn't reflect on me.'"
But what does it show to the young girls that look up to Hollywood actresses? Jennifer Lawrence, star of the Hunger Games series, said in a November interview, "I'm considered a fat actress,"
"In Hollywood, I'm obese," stated the 5'9", 130-lb. actress.
The pressure to often fit into these specific body image standards makes an overarching statement on the role of body image — specifically, female body image — in Hollywood. Are actors and actresses responsible to uphold a certain image as role models, and to what extent can they influence the public?
A study published in the American Journal of Public Health looked at the effect that Hollywood actors and actresses had on the public when they smoked in film. "Television and popular films have contributed to the allure of smoking," wrote the researchers.
The study looked at role models' smoking habits and how they could rub off on their audiences. "According to social learning theory, by paying attention to the behaviors of a person who possesses the qualities, skills and capacities one hopes to achieve, a young observe learns to model these behaviors," the researchers wrote.
Does the same go for weight? In the Journal of Applied Psychology, the success rate of men and women were observed based on their weight. The study found that women who were 25 lbs. below the average female weight made an additional $15,572 each year. How did men fair? In the same case, the outcome is strikingly different. Men who were 25 lbs. below the average male weight made $8,437 less each year. If salary equivocates to success in this instance, men who were heavier were more successful, while the lighter the woman, the more successful she was, according to Business Insider.
"Whereas women are punished for any weight gain, very thin women receive the most severe punishment for their first few pounds of weight gain. This finding is consistent with researching showing that the media's consistent depiction of an unrealistically thin female ideal leads people to see this ideal as normative, expected, and central to female attractiveness," said the researchers.
Reed, thus, only reinforced this skewed perception by labeling McCarthy by her weight. But the actress is remains a success in the face of such scrutiny in the world. In the CBS comedy, Mike & Molly, McCarthy played a good-hearted wife to her overweight husband, making it one of the few successful shows that depicts a couple of non-Hollywood approved size, for which she won an Emmy Award.
With 69 percent of the country currently overweight or obese, according to the Centers for Disease Control and Prevention, heavier role models that stand up to the negativity of relentless media mockery could be just what young onlookers need.
"I felt really bad for someone who is swimming in so much hate," McCarthy told The New York Times in reference to Reed. "I just thought, that's someone who's in a really bad spot, and I am in such a happy spot."
McCarthy's new comedy action movie, The Heat, will be released June 28.
Source: Cradock AL, Escamilla G, Kawachi I. Women and smoking in hollywood movies: A content analysis. American Journal of Public Health. 2000.
Published by Medicaldaily.com