British Bodybuilder's Colostomy Bag Brings Him No Shame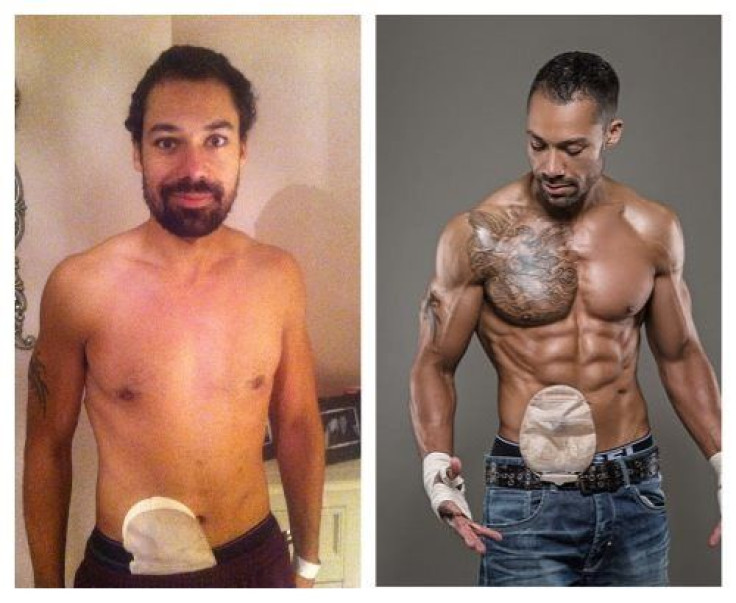 When you first look at British bodybuilder Blake Beckford's physique, you see muscles upon muscles, and then... a colostomy bag? The 33-year-old bodybuilder had a bowel disease that almost cost him his career in bodybuilding. Now he proudly models with a colostomy bag for the world to see. "The bag has given me a second chance," Beckford told Metro.
In 2003, Beckford had a serious large bowel infection. Doctors diagnosed him with ulcerative colitis, a type of inflammatory bowel disease. He was constantly suffering from severe pain and had to step away from his modeling career. One flareup in 2012 caused him to use the bathroom up to 20 times a day. Beckford then decided to get his large bowel removed. The procedure is called an ileostomy. The large bowel is removed and the small intestine is brought through the abdominal wall to form a stoma, which allows waste to leave the body, Men's Fitness reported.
He was bedridden for six weeks after the operation. When part of the colon is removed for a colostomy, the remaining part of the colon is attached to the outside of the abdomen. In order to collect waste, a colostomy bag is attached. Beckford lost a lot of weight from the surgery and had trouble walking. Doctors told him that he wouldn't be able to do heavy training again, but he proved them wrong.
His recovery was slow, but he was determined to get back into shape again so he could return to modeling. "I had to regain my fitness before I could even think about getting into the gym and starting to work on building muscle," he told Men's Fitness. He started with cycling, yoga, and hill walking. He was also very conscious about what he ate, he mentions on his Facebook page.
In no time, Beckford got his body back to being totally ripped and magazine ready. He is now featured in the British Men's Fitness magazine, and will be featured in Muscle and Fitness in October. His story has inspired many. On Facebook, you will see comments like "my hero" on his page, among many others. His story came out to the public after makeup artist and model Bethany Townsend, 23, posted a bikini photo of herself wearing her colostomy bags.
Townsend was diagnosed with Crohn's disease when she was 3 years old. The disease causes inflammation of the digestive system, affecting the sufferer's ability to digest food, absorb nutrients, and eliminate waste. She almost died in 2010 when her bowel ruptured. Doctors operated on her and attached colostomy bags.
"I'm just so glad that it's brought about more awareness of Crohn's disease and it's made me feel so much more confident about the colostomy bags. If I can inspire or help other people in my position to feel a little more comfortable in their own skin then I'm really happy," Townsend said.
Published by Medicaldaily.com