British Couple Celebrates 80-Year Anniversary, Explains Secret To Reaching 8 Decades Of Marriage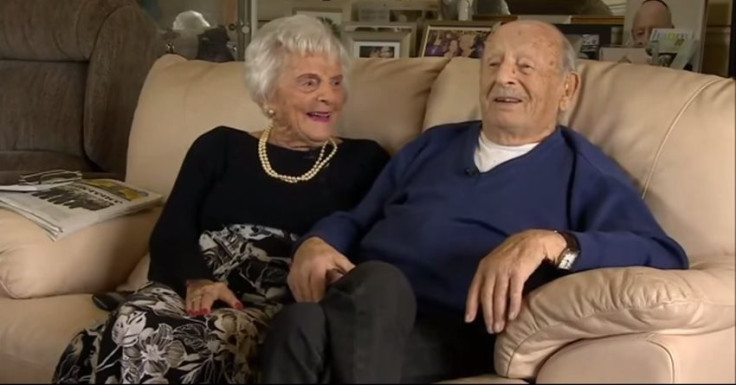 The oldest couple in the United Kingdom is celebrating 80 happy years of marriage -- it's called an Oak Anniversary. The adorable British pair has a love story that tops The Notebook.
When you see 101-year-old Maurice Kaye and 102-year-old Helen Kaye together, you can't help but smile. Love is definitely still in the air. They got married in 1934 in a south London synagogue and have been inseparable ever since. "You can never plan anything. How can you plan for 80 years? It is fate," Maurice told the BBC.
What started as a teenage fling, turned into a lifelong romance. Helen was just 16 years old when she met her prince charming; he was 17. She was working in her mother's dress store when Maurice, a traveling salesman at the time, walked in. He was immediately awe-struck when he saw Helen, and continued to make frequent visits to the store to see her. Four years after they met, Maurice and Helen got married. Helen recalls the day clearly. "Well it was a lovely wedding, it went on forever. We got married at 1:00 and then had what we called a wedding breakfast. It was about a six course meal," Helen said.
The Kaye's have experienced a lot together; from good memories to tragedies. In 1944, their factory, shops, and homes were destroyed in a World War II bombing. They have also survived two of their four children who died young, the BBC reported. But the good times have outweighed the bad times. "We've battled our way through life; it's been hard work and not without tragedy, but we've had so many good moments together," Helen said.
So how did the Kayes stay married so long? Maurice laughed and said "As long as I agree with her, I'm safe." Helen said Maurice didn't woo her with flowers and candy, but showed her love in other ways. Helen's biggest piece of advice to couples who want long-lasting loving marriages like theirs? "You mustn't be hard on each other. And if you have to give in a little bit, you give in a little bit," Helen said.
Published by Medicaldaily.com