British Medical Journal Urges WHO That It's Time Climate Change Is Officially Recognized As Public Health Crisis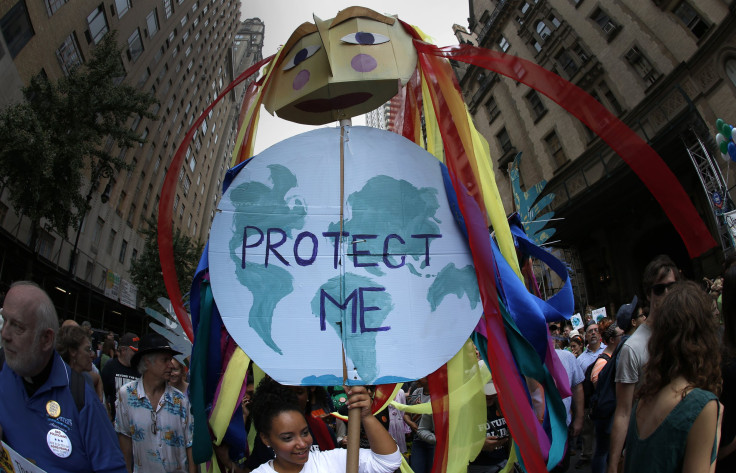 The British Medical Journal would like to make one thing clear: While the current Ebola outbreak is without a doubt an international tragedy, there's another health crisis deserving of worldwide recognition, which is likely to claim thousands more lives than the viral hemorrhagic fever: climate change. It will soon be responsible for an additional 250,000 deaths per year, and the BMJ says it's time the World Health Organization officially recognize it as a public health concern.
With the recent news that a Texas hospital admitted the first U.S. Ebola patient, the United States has quickly spiraled into a full-out Ebola frenzy. It's true, Ebola is scary and the current outbreak has reached a death toll never before seen in history, but still, these numbers will "pale into insignificance when compared with the mayhem we can expect for our children and grandchildren if the world does nothing to check its carbon emissions," BMJ editor-in-chief Fiona Godlee explained in a recent editorial. So why, then, is this crisis not receiving the attention it deserves?
Climate-Related Deaths Are Already Visible
At first glance, climate change, or global warming as it is more commonly referred to, may not seem like a health crisis. However, as reported by The Verge, dwindling fresh water supplies, increased soil erosion, heat stress, malnutrition, malaria, and extreme weather, all caused by climate change, could be responsible for taking countless lives in the not-so-distant future.
In reality, though, when you sit down to think about it, the link between climate change and human health is not hard to see. Natural disasters, such as last year's Hurricane Sandy, left many people vulnerable to untimely deaths. Increases in mosquito populations caused by climate change may be behind the unprecedented chikungunya outbreak and dengue fever in the Caribbean. Pollution is also attributed to rises in cancer.
For unknown reasons, this imminent threat of climate change has not managed to produce a robust public response. The authors of BMJ have decided to take another approach and explain their message to medical professionals, hoping they may be more successful in relaying the message to their patients.
In September, the journal published a climate change guide, which called on health professionals to explain climate change to their patients in terms of health consequences. "It's pure climate science because if we doctors are to become effective advocates against climate change, a better understanding of the science will help us," Godlee explained.
Climate Change May Alter Male To Female Population Ratios
Climate change has also been predicted to cause an uneven ratio of male and female births in the near future. Researchers in Japan have noted that with increases in temperature fluctuations come increases in the number of deaths of male fetuses, Discovery News reported. This suggests that climate warming or extreme climates could negatively affect the male fetus and lead to global populations with significantly higher female populations than male.
Male fetus survival rates are generally lower than female fetuses, and it has been long observed that pregnancies are more likely to have unfortunate outcomes if the unborn child is a male. Also male fetuses are more sensitive to harsh external environments, as we have learned from the drastic number of boy births when compared to girl births in times of famine.
Published by Medicaldaily.com