Brooklyn Teacher Jimmy Palmaro Doesn't Let His Blindness Stop Him From Painting Pictures With Words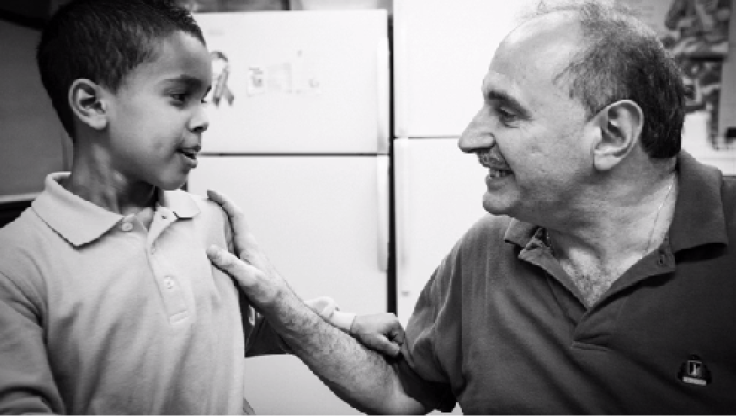 Jimmy Palmaro hasn't been able to see for almost a decade. He's 57 now, volunteering at the Colony South Brooklyn Houses in Brooklyn, N.Y., to teach kids reading and writing. Cane in hand, he may not have pictures to look at anymore, but he certainly has more than a thousand words to make up for it.
Known to his students as Mr. P, the former post office employee was formally diagnosed with retinitis pigmentosa when he was only 25. The disease is degenerative and inherited, characterized by a gradual deterioration of the photoreceptors in the eye. Palmaro first noticed his RP when he couldn't adjust to low light levels at night. But rather than recede into an ever darkening world, he found a renewed passion in teaching.
Photographer Phyllis Dooney captured Palmaro's love affair with teaching the written word in August of last year. Dooney spent six months shadowing Palmaro from his apartment to the school, and everywhere in between, documenting the relationships he's formed with his students and members of the community.
As a teacher, he has specific strategies that he considers win-wins. For example, he requires students to read their assignment to him before trying to solve them. "They have to make the connection. They have to engage," he told Dooney, according to The Huffington Post. "They have to do the work."
Dooney compiled her photographs into an audio slideshow, with some video mixed in, and Palmaro's narration on top of it. He'll never get to see the final product, but he says he doesn't need to. He already knows what it looks like. "I can't see the photos," he said, "but I can paint the pictures with my brain."
Palmaro encourages his students to take his blindness as a reason to be grateful, to understand that disabilities can actually turn into strengths, even if they weren't your intention. "I tell my students, 'Don't let your limitations define you. Don't be shortsighted,'" he said, laughing at the pun. "I've gained things through my blindness that are not limitations."
Published by Medicaldaily.com