Brotherly Love: 8-Year-Old Boy Carries His Disabled Brother Through Triathlon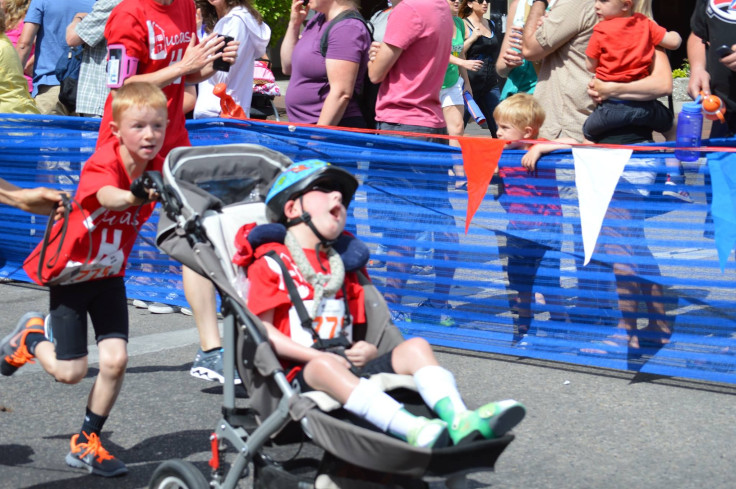 Typically, when you think of an 8-year-old boy, hero might not come to mind. Noah Aldrich from Idaho will change your perspective. This courageous, fit 8-year-old carried his disabled brother Lucas through his community's YMCA Kids Club triathlon — swimming, running, and biking — and it was all because he wanted to prove his little brother's disability makes him no different than other kids.
Lucas has a neurological disorder called lissencephaly, characterized by brain malformation that prevents him from speaking and forces him to eat through a feeding tube. Despite the challenges of the condition, the 6-year-old finds comfort in watching his older brother play sports, and Noah is sure to bring Lucas along with him everywhere. "They definitely have a special bond, the two of them," their father, Brian Aldrich, told KTVB. "You see Lucas light up so much when Noah enters the room. It just brings a smile to your face when you see the love between the boy."
Noah figured this "Y Not Tri" mini-triathlon wouldn't be any different. When he found out about the event, he asked his parents if he could bring his brother along, and they said yes. He trained for three months by pushing Lucas in a large stroller, swimming with him in a boat that he pulled along, and by cycling with his little brother in a stroller on the back of his bike.
Though a challenge, Noah was determined to finish the race with his brother by his side. Noah pulled Lucas through a 200-meter swim, a 200-meter bike ride, and ran with him on a one-mile run in less than an hour, JRN reported. Both brothers hit the finish line together, an amazingly heartfelt moment. "It was really exciting to watch them and a little nerve wracking as parents, but they did so good and we're proud of them," Alissa told the Daily Mail.
Published by Medicaldaily.com