His Father Injected Him With HIV 24 Years Ago, But Brryan Jackson Isn't Letting It Hold Him Back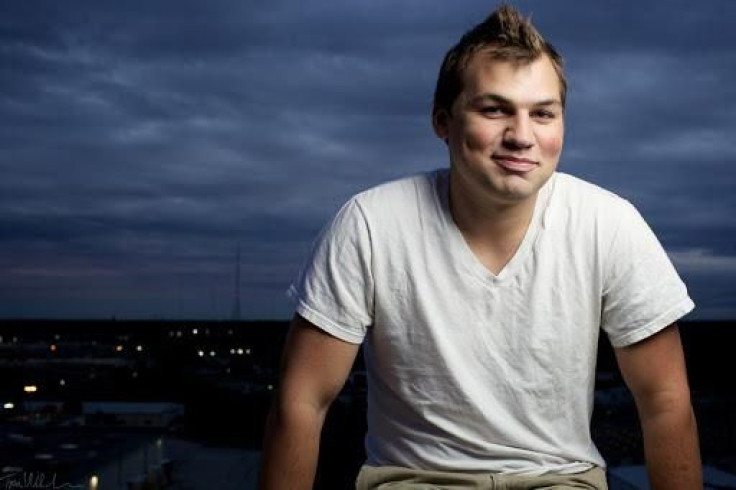 There are several ways to contract HIV — sexual intercourse, blood transfusions, sharing needles. It's almost always an accident, an unfortunate side effect of another action. Twenty-four years ago, however, an 11-month-old boy was purposely infected. Brian Stewart, a phlebotomist at Barnes Hospital in St. Louis, plunged a needle filled with HIV-positive blood into his own son's vein.
"When I leave you, I'm going to leave for good, and I don't leave any loose ends or ties behind," Stewart had told the boy's mother a few months prior, according to court documents. "You won't need to look me up for child support anyway, because your son is not going to live that long." Jennifer Jackson asked what he meant. "Don't worry about it," he answered. "I just know your son is not going to live to see the age of five."
Stewart, despite his best efforts, was wrong. His son, who shared his name but changed its spelling to Brryan, did contract HIV. He didn't die, though — Brryan Jackson is now 23 years old, and sharing his journey through public speaking, an organization he founded, and an interview with GQ.
"I actually just tweeted about Father's Day," he told the magazine. It was two days after Father's Day, and Brian Stewart had been in a maximum security prison for over 15 years. "I have been known to make jokes about it. And some of the jokes make people … uncomfortable."
They may not be for everyone: on Twitter, Brryan Jackson wrote: "Knock, knock. Who's there? Not my dad." He also once held up an orange shirt and asked, "Does this make me look like my dad?"
Brryan Jackson sees himself with two options: sitting around and being angry about his situation, or having fun with it.
"I'd rather be funny than serious any day. Life's about having fun, having adventures," he said. "If you make a couple jokes about being a bastard child, or not having a father growing up, or being hard of hearing, or being HIV positive, do it. Let me make fun of myself so people don't make fun of me."
Brryan Jackson deals with fatigue and shingles, and has to see the doctor every three months to check his blood. He lost most of his hearing because of a drug he had used in his childhood, amikacin, that killed the nerve endings in his ears. He still has a speech impediment. He's down to just one pill a day, though, a vast improvement over many years of his childhood.
There were several occasions where Jennifer Jackson feared that the father's morbid predictions would come true, and that her son would really die. At 7, the boy had chronic ear infections, a swollen liver, and no immune system. He was taking 23 oral medications. During one particularly awful bout of illness, he flat lined twice, and his mother was prepared for his death to the point of picking out a suit for his funeral.
It was for this reason that Brryan Jackson could not attend his father's trial. Jennifer Jackson went instead, reading aloud to the jury and judge a letter that her son had dictated from his hospital bed.
"I think he shouldn't ever be out of jail. He shouldn't have done this," Jennifer Jackson read in the fall of 1998. "Why can't he say he's sorry?"
After hearing the letter, judge Ellsworth Cundiff addressed Brian Stewart directly.
"I believe that when God finally calls you, you are going to burn in hell from here to eternity, and maybe that's the only justice that will come out of this when you are finally gone," Cundiff said. "My thought is that injecting a 10-month-old child with the AIDS virus really puts you on the same category as a war criminal, as the worst war criminal. The maximum I can do with you is life in prison. I don't really think that is a very fair sentence, not with what your son is going to have to go through. He is going to die. We all know that."
But Brryan Jackson, who changed his name at age 8 to distance himself from his father, defied everyone's expectations. Between sick days and bullying, he pushed for a normal life. After attending a retreat for children with HIV and picking up the nickname Badger, Brryan Jackson realized he had a story to tell. He appeared around St. Charles, Mo., on local TV, and began traveling to different states to speak publicly.
He never wrote his father in prison, never placed a call to the Potosi Correctional Center in Mineral Point, Mo., where his father is incarcerated.
"I don't really feel anything about him," Brryan Jackson said. "I don't know the guy; I just know what he has done, and I feel like you have to be accountable for what you've done. Maybe there's some regret, maybe there's a change in his heart. I don't know what he thinks or what he does, but since I've forgiven him, that's all I can do. Just live my life and show him what I'm made of."
Published by Medicaldaily.com