Bypass Patients Found to Live Longer than Those with Heart Stents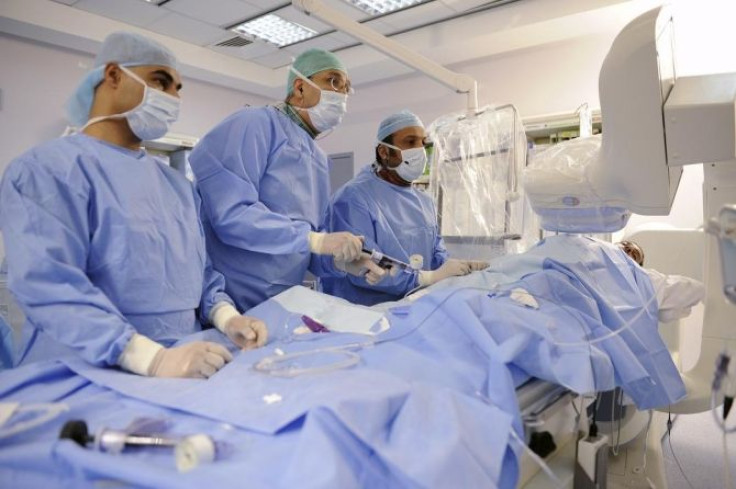 Older patients with clogged heart arteries who undergo bypass surgery appear to live longer than patients who chose a less invasive stent procedure, according to a new large study comparing the two treatments.
The findings show that 20.8 percent of patients who had an angioplasty procedure, where the surgeon clears the blockage using an instrument threaded into the artery and inserts a wire mesh stent to keep the vessel open, had died four years after treatment.
About 16.4 percent of patients who had a more invasive bypass operation, where surgeons move healthy segments of blood vessels from other parts of the body to create routes around clogged arteries that supply blood to the heart.
The research, presented at a meeting of the American College of Cardiology in Chicago on Tuesday, analyzed data for 190,000 U.S. patients using Medicare claims and information from the American College of Cardiology Foundation and the Society of Thoracic Surgeons.
"Our study is the most general one ever done because it uses data from across the whole country. It is also much larger than any other study", said Dr. William Weintraub, the study's lead researcher and head of cardiology at Christiana Care Health System in Wilmington, Delaware.
"Combining data from several large databases, we found that survival was better with coronary surgery than percutaneous coronary intervention," Weintraub said.
Researchers warned that bypass surgery is not the best option for every patient. They note that there were different risk levels among patients in the data groups which may have contributed to the worst outcomes for angioplasty patients in the latest study.
"It does push the needle toward coronary surgery, but not overwhelmingly so," Weintraub added.
"When we're recommending coronary surgery to patients, even though it is a bigger intervention than PCI, we can now have a little more confidence that the decision is a good one," he said.
Heart diseases are the leading cause of death in the United States, according to the U.S. Centers of Disease Control and Prevention, and in 2007 a quarter of all deaths were from heart disease. It strikes when fatty buildup narrows or blocks the arteries leading to the heart.
Dr. Douglas Weaver, a director of the Edith and Benson Ford Heart and Vascular Institute in Detroit, told Reuters that the latest findings are just part the increasing number of studies supporting bypass surgery.
"It changes the conversation," he told Reuters. "I think it will temper the use of stents in patients who are otherwise good candidates for surgery."
People with extensive artery disease, diabetes or challenging vessel anatomy are some of the people who tend to do better with bypass surgery, he said.
Weaver said that the number of stent procedures performed have been declining partly because of the growth of research favoring bypass surgery and also because fewer people are being diagnosed with coronary disease because of lifestyle changes and better preventative care.
The findings were published on Tuesday in the New England Journal of Medicine.
Published by Medicaldaily.com