C-Section Babies Get Photographed Not Even 20 Seconds After Birth For Art Project
Between 3 and 18 seconds old — that's the timeframe artist Christian Berthelot is interested in preserving. In his latest photography project, "Cesar," a raw look at C-section babies as they first emerge from the womb, Berthelot tries to capture them in their most natural state possible. Some shots feature the babies in the throes of a frenetic fit, while others show serenity, and the majority, he says, "do not yet appear to belong to the world of the living."
Berthelot found inspiration for the project after his wife delivered their son via Cesarean section. "When I saw him for the first time, he was bloodied and covered in this white substance called vernix," Berthelot said in a statement. "He was like a warrior who has just won his first battle, like an angel out of darkness. What a joy to hear him scream."
After asking to collaborate with Jean-Francois Morievnal, an obstetrician in the hospital where Berthelot's son was born, the artist began his quest to photograph newborns seconds after they entered the world. He has photographed 40 babies so far, asking each mother for permission and giving her a copy of the photo afterward as a keepsake. "Cesar" will be on display between January 24 and March 8 at Centquatre, Paris, France.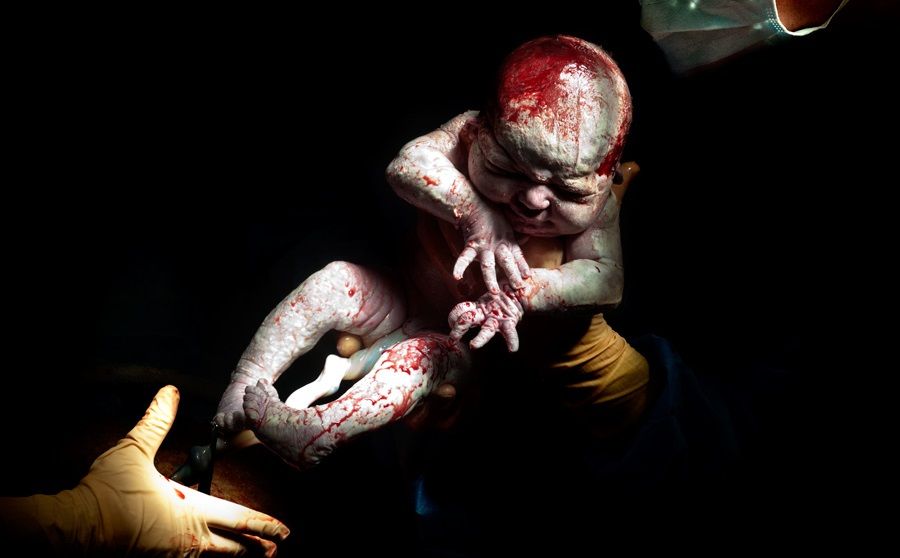 Published by Medicaldaily.com