Camel Crush Cigarette Ads Entice Teenagers, Says Campaign for Tobacco-Free Kids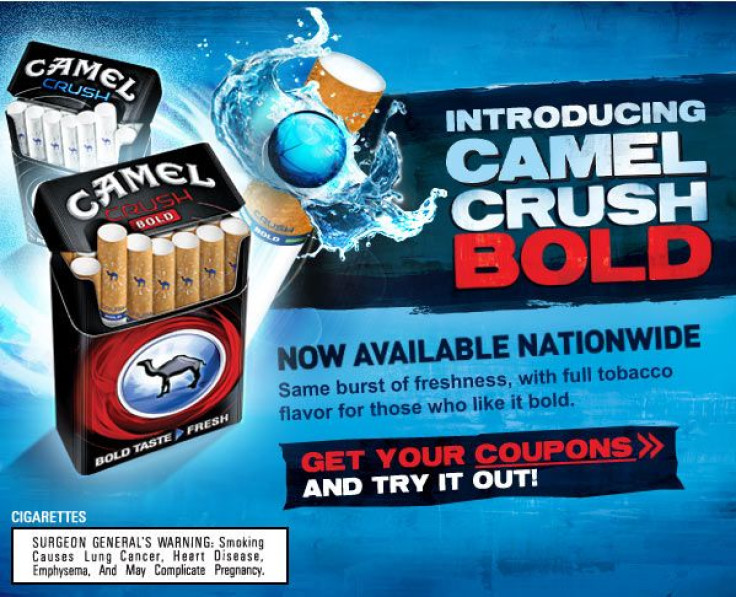 Camel Crush cigarette ads are targeting teenagers, according to major health groups that are calling for an investigation of the company's menthol advertising campaign.
The Associated Press reports that the American Heart Association, American Lung Association, American Cancer Society, Legacy, and Campaign for Tobacco-Free Kids are spearheading a complaint to at least two state attorneys that the Camel Crush cigarette ads, which were recently published in 24 major magazines, may be openly disregarding the Tobacco Master Settlement Agreement by enticing teenagers.
That landmark 1998 legislation, signed by 46 states, banned tobacco companies from targeting children with cigarette ads and demanded that they pay states approximately $206 billion in health care restitutions.
Richard Smith, a spokesman for Reynolds American Inc., which owns the Camel brand, told the AP that the Camel Crush cigarette ads comply with the terms of the Tobacco Master Settlement. He also said that Reynolds only advertises in publications that have an adult readership higher than 85 percent.
The recent Camel Crush cigarette ads were published in the April, May, and June issues of widely circulated magazines like Entertainment Weekly, ESPN the Magazine, Sports Illustrated, Rolling Stone, People, Glamour, InStyle, US Weekly and Vogue, the groups wrote in their formal letter to the Attorneys General of South Dakota and Missouri.
"We believe that R.J. Reynolds' new ad campaign does directly or indirectly target youth because the entire ad buy is reaching millions of youth and several of the individual magazines have large youth readerships," they stated in the letter, which was posted on the Tobacco Free Kids website.
"The new ad uses bold colors and graphics that highlight the crushable capsule, which could be particularly appealing to young people. R.J. Reynolds has long recognized the potential appeal of such products to youth, noting in one internal document that the ideal youth cigarette should include 'some useful, demonstrable novelty in filter, mouthpiece, package or other aspect of the product system.'"
They claim that a large portion of the readership of these magazines — at least 12.9 million — consists of teenagers between the ages of 12 and 17.
"We urge the state attorneys general to launch an investigation of R.J. Reynolds' new ad campaign — given the millions of teens it is reaching, the company's long history of targeting kids, and the particular qualities of Camel Crush that are likely to appeal to youth," the letter continued. "The evidence also shows that R.J. Reynolds does not change its harmful marketing practices without public and legal pressure. R.J. Reynolds cannot be allowed to get away with yet another marketing campaign that entices America's kids into a deadly addiction."
Cigarette advertising is banned from radio, television, and billboards, and under expanded tobacco advertising regulations issued by the U.S. Food and Drug Administration (FDA) in 2010, tobacco companies cannot sponsor sports or entertainment events. Print ads are still allowed, however, as long as they do not target children under the age of 18.
This is not the first time Reynolds has fallen afoul of advertising standards. In 2007, the company suspended a print ad campaign for its Camel No. 9 cigarettes after health groups criticized it for aggressively targeting young women.
Camel Crush cigarettes contain a capsule in the filter that releases menthol flavoring into the smoke. According to a 2012 report, the brand is increasingly popular among teenagers who are 12 to 17 years old.
The FDA is currently investigating how menthol flavoring affects cigarettes' appeal to young people.
Published by Medicaldaily.com