Can 'Water-Biking' Be Your New Way To Commute? Judah Schiller Introduces BayCycle In Ride Across Hudson River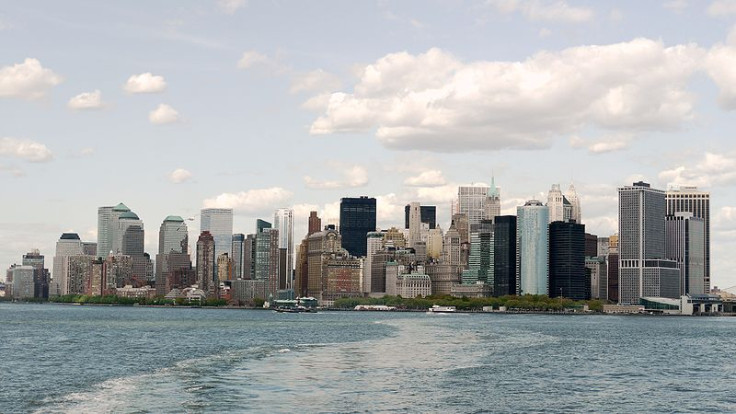 Judah Schiller biked from Hoboken to Pier 66 in Manhattan in 15 minutes — and he wasn't biking over the bridge.
In what he hopes will grow into an alternative transportation revolution, Schiller "water-biked" across the Hudson River Thursday on a new device he designed. The 41-year-old founder and CEO of the AIKO design agency came up with the BayCycle, a water bike, to encourage people of all ages to bike more — and to find calmer routes for commuting, away from the busy streets of big cities. His dream is for the water bike idea to develop into a recreational sport like mountain biking. It may seem like mountain biking has been around for ever, but really, the sport has only became popular in the past several decades.
Schiller claims all you need to know is how to ride a bike. During his ride across the Hudson, he was equipped with a personal flotation device for safety, but otherwise enjoyed a peaceful, refreshing ride. Both Schiller and his bike remained completely dry. The bike is designed to turn a propeller when you pedal. Schiller hopes to spark ideas to have "virtual bike lanes" on the water.
"Road bikers laughed at people taking their Schwinns to the top of mountains," he told the NY Daily News. "This is water biking. The planet is two-thirds covered with water, so this is a great opportunity to combine the two." Last Friday, Schiller became the first person to ever ride a bike across the San Francisco Bay. "You're out on the water, you don't have all of the exhaust from the cars," Schiller told the NY Daily News. "It's a lot more serene."
Although the risks for bikers in New York City have decreased in recent years due to more bike lanes, finding alternative ways to enjoy a bike ride in the congested city may be a refreshing possibility for bike-lovers. And the health benefits of cycling can't be denied: a 2007 study found that physical activity during a commute to work (such as biking or walking) could be associated with improved mental health in men. Another study found that the benefits of cycling — including an increased life span — outweighed the risks.
"Let's create a new aquatic frontier in biking — because the ride doesn't end at the water's edge!" Schiller wrote on the Baycycle Project fundraising site.
Published by Medicaldaily.com