Can You Hear Me Now? Transcense App Gives The Deaf New Chance At 'Hearing'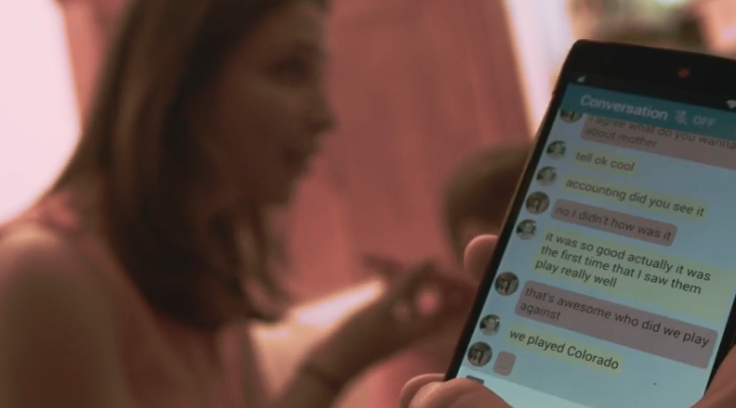 Ears have the ability to pick up the faintest of sounds, from a pin drop to the tick of a clock, but hearing is often sacrificed in big group events, especially for the deaf. Transcence, a Berkeley-based company, has sought to open the pathways to communication by letting people converse with the deaf and vice versa through an interactive smartphone app. Using speech recognition technology, Transcence gives the deaf a chance to "hear" again by translating speech into written words while multiple people are talking at once.
The app uses real-time captioning on a phone to make group conversations between deaf and hearing possible. "We developed Transcense to end the professional and social exclusion caused by hearing loss. Transcense brings meaning to the conversation and allows the deaf person to actively engage again," Thibault, Skinner, Pieter and Noore, the Berkeley and University of San Francisco grads who developed the app, wrote on their Indiegogo page. All four grads have experience with hearing loss because Thibault was born in a Deaf family (CODA). Skinner is deaf and a non-signer; Pieter and Noore learned American Sign Language.
Transcense connects to multiple smartphones and leverages their microphones to listen and interpret the conversation right onto the participant's screen. A speech recognition algorithm is used to detect each individual's voice and link them with a color. This makes it easy for the user to see who is talking just by looking at their smartphone screen.
Josephine Schallen of the Hearing Loss Association said in an infomercial for the product: "The captioning comes up really fast, so that's really good. So I can follow in real-time and know who is speaking."The app provides two-way communication by allowing the user to respond, ask, or speak back for you with a personalized voice. The user can also notify the people around them when they want to say something.
The app is aiming to help deaf people with group conversation and also cut down costs on the deaf and hard of hearing by potentially eliminating the use of an interpreter. Estimates range from $70-$120 per hour to hire an interpreter, according to techcrunch.com, whereas Transcense is expected to cost a user $360 per year or $150 for one year if the user contributes that amount to the Indiegogo campaign. The graduates have raised over $21,000 but are still $4,000 shy from their $25,000 goal.
This project has been developed for over a year and is the brainchild of these four grads, who have talked to more than 300 audiologists, deaf, hard of hearing, seniors, speech and behavioral design experts to help design the solution to this problem. Currently, the app is available in private Beta on Android. The crowd-funding site is being used to raise the money to port Transcense to OS and Web, so that any deaf and hard-of-hearing person can use it anywhere, anytime.
Transcense, like other apps that are working on helping the deaf converse, are still in the early stages. Meanwhile, smartphone apps like Dragon Dictation, have sought to simplify communication for those whose hearing is deteriorating. As one person speaks, Dragon Dictation will transcribe the words for the person who is hard of hearing to read. Although it's not 100 percent accurate, it will give the user enough information to improve their understanding of the conversation. This app is available on iTunes for free.
These apps can help the 360 million people in the world who have disabling hearing loss, according to the World Health Organization. Disabling hearing loss refers to hearing loss greater than 40 decibels (dB) in the better hearing ear in adults and a hearing loss greater than 30dB in the better hearing ear in children. Approximately one-third of people over age 65 are affected by disabling hearing loss.
Published by Medicaldaily.com