Cancer Patient Mistaken By Bank For 'Surgical Mask Bandit': 57-Year-Old Joe Jaramillo Says He Was 'Humiliated'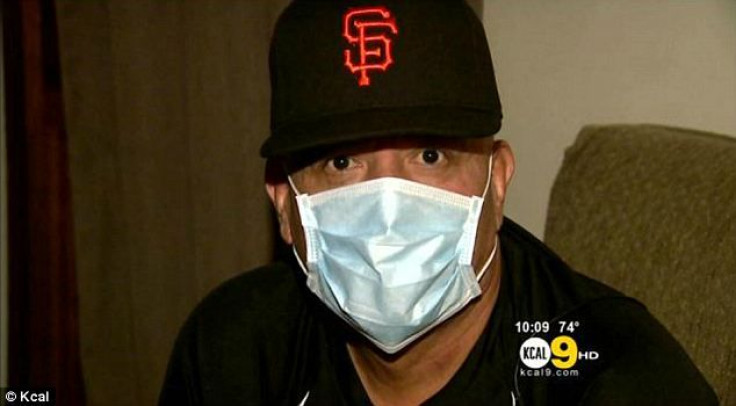 A cancer patient in California was mistaken for an at-large bank robber after entering a Montebello Wells Fargo with a surgical mask on in order to ward off germs. Joe Jaramillo, 57, was just trying to regain some independence when he was detained and questioned by police with regard to a series of robberies perpetrated by the aptly named "Surgical Mask Bandit."
"I just wanted to do something on my own," Jaramillo told KCAL 9.
"The next thing I know, I have six Montebello police officers around me, standing there saying, 'Can you stand up, can you put your hands above your head'?' What did I do? 'Can you please stand up, sir?' I go, 'Really?' This is so embarrassing, you have all these people at the bank [watching]."
The scene unfolded Friday after Jaramillo entered the bank wearing the surgical mask and a San Francisco Giants baseball hat. After informing the bank teller that he had just undergone chemotherapy the day before and that the mask was being used to fend off germs, the man was forced to wait for his transaction to process. Jaramillo now recognizes the bank employee's request as a ploy to stall time until the police arrived.
When authorities entered the bank, some brandishing shot guns as Jaramillo indicated, they questioned the lymphoma patient on his activities at the bank and even searched his car before releasing him with an apology.
"This is the first I am hearing of this. Because the bank is closed tonight, I can't speak to the branch manager and cannot provide any information until tomorrow and comment on the situation," read a statement issued by Wells Fargo representatives.
The real "Surgical Mask Bandit," identified as Jensen Pickford, 23, was arrested by British Columbia Mounties in Surrey last week. Jensen faces 12 counts of robbery with a weapon, using an imitation firearm and a disguise with intent for a string of thefts reported from mid-May to mid-June, CBC News reported.
Published by Medicaldaily.com