Heart Disease Death Rates Vary Widely Across The US, Map Reveals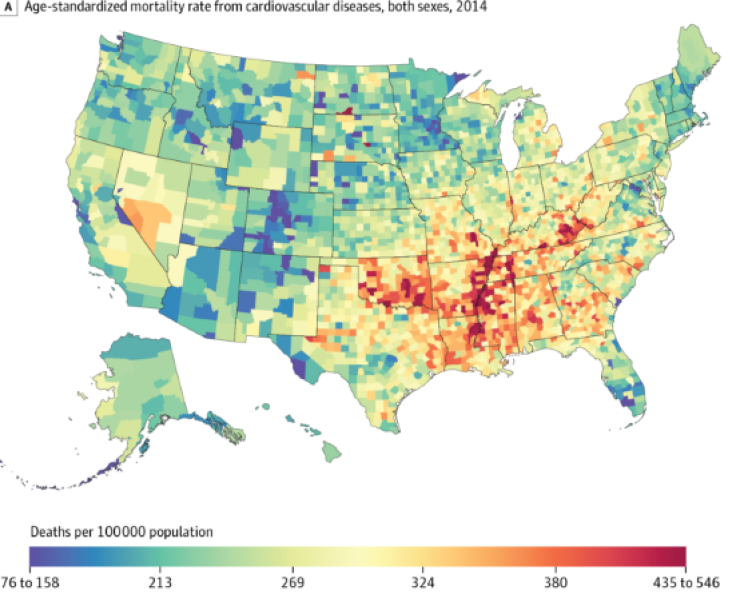 Although deaths from cardiovascular disease have substantially dropped over the past 35 years in the United States, it is still the country's leading cause of death. But, new research highlights there's large differences in disease mortality rates for certain types of heart problems, depending on where you live.
The study, published in JAMA, highlights the cardiovascular disease mortality rates across the country for the past few decades. The researchers found that the mortality rate for cardiovascular diseases decreased from 507 deaths to 253 deaths per 100,000 persons from 1980 to 2014.
Read: Why Americans Have A Lower Life Expectancy, From Increasing Rates Of Heart Disease To Alzheimer's
The researcher's findings are illustrated in the map below, which shows that mortality rates are especially high in some regions of the country and far greater than the national average. Regions with the highest levels of mortality rates are primarily found along the Mississippi River and other Southern regions.
Cardiovascular disease, or heart disease, is a broad term that refers to a long list of problems that typically involve narrowed or blocked blood vessels that can lead to a heart attack. For some varieties of the disease, the researchers found similar mortality rates across counties. However, for ischemic heart disease and stroke mortality rates, the differences across U.S. counties were substantial.
"These findings suggest major efforts are still needed to reduce geographic variation in risk of death due to ischemic heart disease and cerebrovascular diseases," the authors wrote in their paper.
Ischemic heart disease, or coronary heart disease, occurs when plaque builds up inside the coronary arteries over the course of many years. These arteries are responsible for supplying oxygen-rich blood to your heart. If plaque prevents the blood from continually flowing, a heart attack can occur. Cerebrovascular diseases refers to a group of conditions that can ultimately lead to events that affect the blood supply to the brain, such as a stroke.
Read: 5 Tests To Better Predict Heart Disease Risk: EKG, CT Scan, And Three Blood Tests, Cardiologists Suggest
"We expected to find geographic variation, but were surprised at how large this variation actually was," lead study author Dr. Gregory Roth told Business Insider. "Also, we found hotspots for some diseases all over the country, and often high-risk counties are adjacent to very healthy ones. Heart disease and stroke risk appears to vary dramatically almost from one freeway exit to the next."
As shown in the map, the lowest cardiovascular mortality rates were in counties around San Francisco, central Colorado, northern Nebraska, central Minnesota, northeastern Virginia, and southern Florida.
Limitations of the study, as noted in the paper, is that the data used to calculate mortality rates (vital statistics and census population) are subject to error due to deaths or individuals not accounted for or included in the wrong county.
See also: Where The Healthiest Eaters Live In America; This Florida City Takes The Number 1 Spot
How Healthy Is Your County? Interactive Map Reveals More Young Americans Are Dying Prematurely
Published by Medicaldaily.com