Cash-Strapped Octomom Nadya Suleman Becomes a Stripper to Promote Upcoming Pornographic Film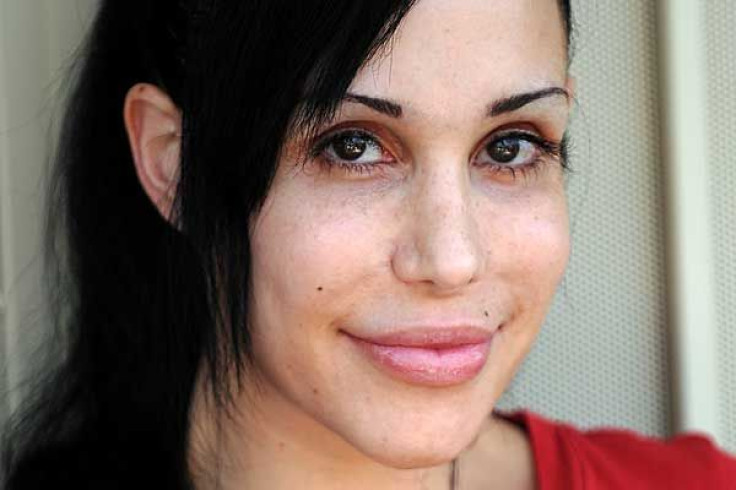 After starring in a pornographic film and filing for Chapter 7 bankruptcy, Nadya "Octomom" Suleman has reportedly agreed to a one-week stripping stint at T's Lounge, a gentlemen's club in West Palm Beach.
The 36-year-old mother of 14 will do two shows a night from July 11-15, TMZ reported.
While T's Lounge is an all-nude strip club, Suleman has only agreed to perform topless and has not agreed to do any lap dances, according to TMZ.
Suleman has reportedly felt "sexually liberated" after filming her solo porn film, and has decided that stripping would be a good way to promote her upcoming video expected to be out this summer, the online entertainment website reported.
Last month, Suleman had filed bankruptcy in federal court and has reportedly said she would do anything for a job, but only if the price was right.
"If it's a job, and it's a well-paying job, and it's gonna allow me to get out of here and move in a very safe, huge home that they deserve, I'm gonna do it," she told HLN's Nischelle Turner.
The bankruptcy documents indicate that Suleman has less than $50,000 in assets and owes between $500,000 and $1 million in liabilities.
"I've had to make some very difficult decisions this year and filing Chapter 7 was one of them," Suleman said. "But I have to do what is best for my children and I need a fresh start."
"She's got a lot of mouths to feed so it was only a matter of time," Michelle, a bartender at T's lounge, told CBS. "She must be a little crazy, normal people don't have that many children, but we're all curious."
The manager at the lounge hopes that Octomom can draw more attention to the lounge, according to CBS.
"Everyone will come to see her -- it's not just a gentleman's club anymore it's a party place -- it's somewhere to have fun and meet people you wouldn't otherwise get a chance to meet," Stacy told CBS. "I wouldn't say she's going to be experienced when it comes to the polework, but I'll say she's going to be entertaining."
Published by Medicaldaily.com