Cassidy Hooper, Teen Born Without Nose Or Eyes, Gets Nose Through Surgery; Rib And Skin From Forehead Used In Construction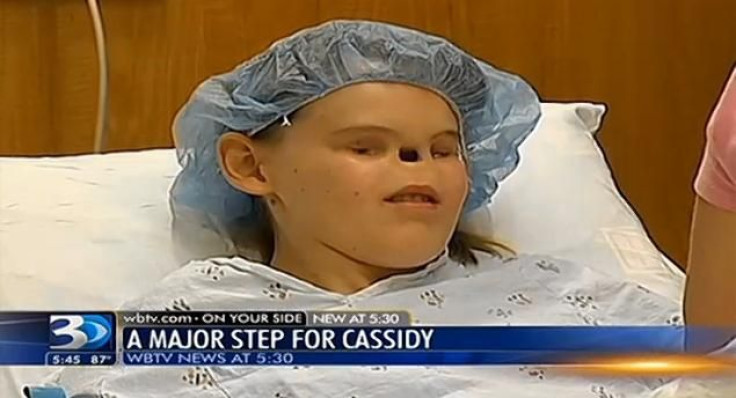 A 17-year-old girl will soon get the finishing touches put on her surgically constructed nose, as doctors have had to draw skin from her forehead and soon, bone from her rib, in order to build the nose she was never born with.
Cassidy Hooper, from Charlotte, N.C., was born without a nose or eyes. Doctors call Hooper's condition a rare birth defect, although they cannot pinpoint the cause. Her journey toward finally getting a real nose is almost at its end, as surgeons recently grafted skin from her forehead and turned the flaps inside out to build the nose, WBTV reports.
Cassidy's mother, Susan Hooper, explained the first surgery in more detail.
"He's taking a lot of skin in this surgery," she said. "He's taking it from a section of her forehead and pulling it down and folding it over so it continues to get a blood supply, and then he'll stitch it up and fold it to look like a nose. It'll just be skin. There will be no structure or bone underneath. Not yet. That's the next surgery, next month."
The skin-only nose surgery took place in June and was the first of three surgeries for the rising high school senior. In late July, doctors will graft one of her ribs to use as a nose bridge; then, in the third and final surgery, they'll shape the newly finished nose to match Hooper's face.
Hooper expressed only joy and gratification for her new nose, noting that she rarely has bad days.
"I'm not nervous," she said. "I know everything is going to be okay and I know it's going to be awesome when I wake up."
Hooper's process in obtaining a nose started six years ago, when she was 11. Before they could begin any invasive construction, doctors first had to carve a space for the nose to sit. Doctors will also add prosthetic eyes and surgically reposition her eye sockets closer together, Hooper says.
"I was actually thinking of what the reaction of everyone would be when that last surgery finished," she said. "And I think everyone's going to be so excited."
Hooper's parents say the decision to undergo surgeries all for a nose she'll never get to see was all Cassidy's. The cost has taken a toll — insurance covers all but 20 percent of the surgery fees — but Hooper's parents agree that denying their daughter a nose would be a larger cost.
"It's tough," said Susan. "It's extremely expensive. But this is Cassidy's choice. It's what she wants. We think she's perfect the way she is. But if she wants to get a nose, her father and I don't want to say 'No, you can't have one.'"
For her part, Hooper acknowledges the sacrifice of her surgeries. A mantra has kept her thinking positive over these six years.
"It's like I have said before, Mom," she said. "I don't need easy, I just need possible."
Published by Medicaldaily.com