Casts Made By 3-D Printing Make Broken Bones Stylish
The Cortex Exoskeletal cast, a nylon cast created with 3-D printing technologies, could be the first major change in decades to the old plaster and fiberglass orthopedic casts used to treat broken bones.
Jake Evill of New Zealand designed the superhero-inspired exoskeleton after spending months in an uninspired plaster cast after sustaining injuries from a fight.
"I was surprised by just how non-user friendly those cumbersome things are," Evill said in an interview with Wired. "Wrapping an arm in two kilos of clunky, and soon to be smelly and itchy, plaster in this day and age seemed somewhat archaic to me."
Anyone who has spent time in a cast can relate. Standard casts, made of fiberglass or plaster, are not very wearer-friendly. They can degrade when exposed to moisture, forcing people with casts to get creative with keeping them dry in a shower.
Evill designed a new type of cast with these limitations in mind. With a durable nylon mesh that resembles the nature-optimized cells of an insect's wing, the exoskeleton is light, durable, breathable, and can survive getting wet. As an added bonus for the eco-conscious patient, the cast is recyclable.
Although the cast has yet to be subjected to tests or regulatory approval, Evill has plans for how it would be used in the event of a fracture. Upon arrival to an emergency room, a patient would get the standard X-ray that would confirm the location of the fracture, as well as a 3-D scan of the affected limb. An individualized design would be created, based on the shape of the person's limb with extra reinforcement around the area of the fracture.
The design would be printed using a 3-D printer and nylon, and would be snapped into place around the fractured limb.
In addition to looking better than traditional casts, the Cortex exoskeleton is thin enough to wear underneath clothing. Conversely, it allows skin to breathe in hot, muggy weather.
While the Cortex exoskeleton is a long way from widespread use, its new design could benefit many. In an infographic featured on his website, Evill provides information on the ubiquity of fractured bones. In the U.S., 6.4 million fractures occur annually, and 2.4 out of 100 people are expected to get a fracture in a given year. Over the course of an average lifetime, a person could expect to experience two fractures.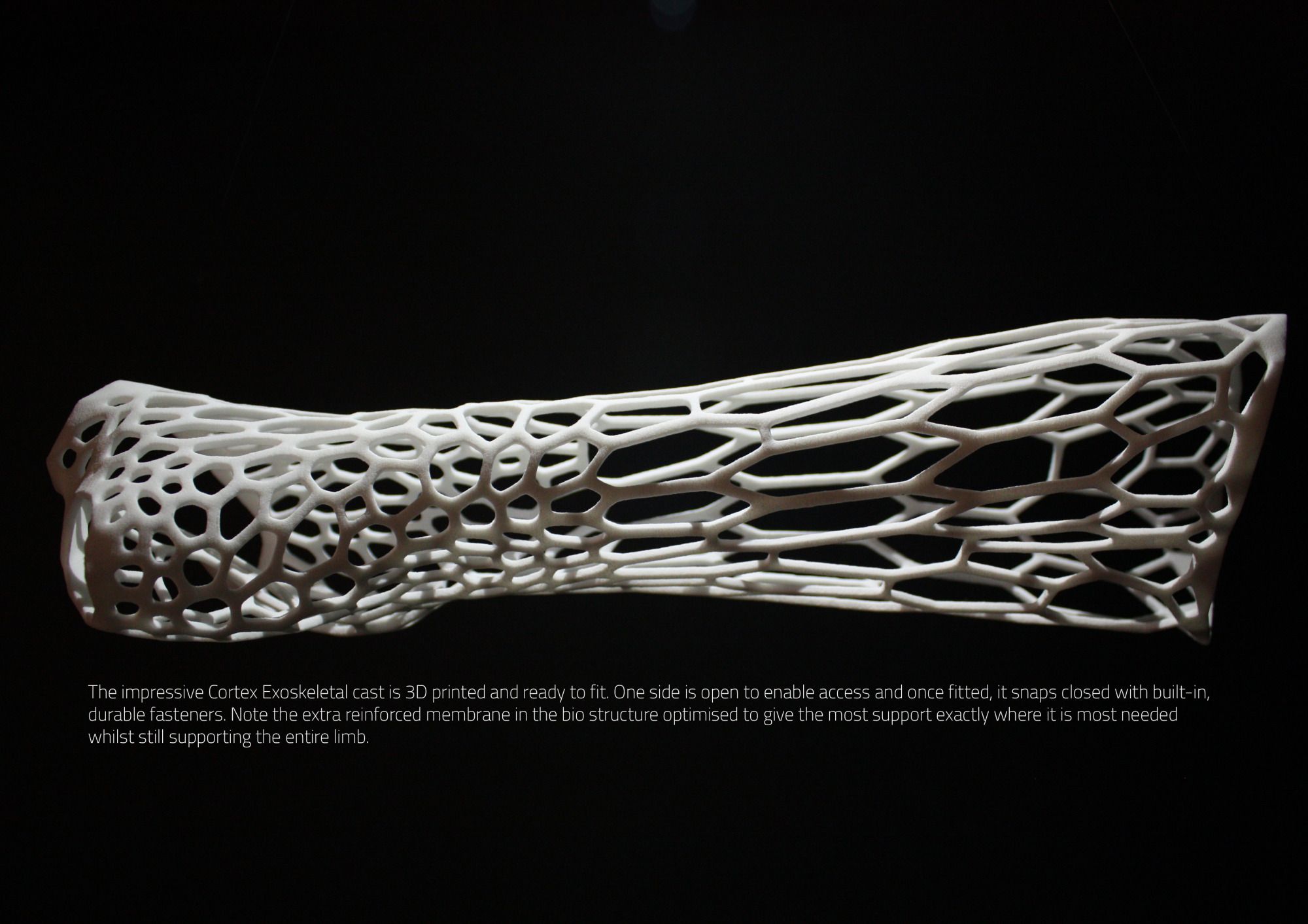 Published by Medicaldaily.com