Cat Bites Pose Risk Of Infection As 1 In 3 Patients Bitten Hospitalized; Teeth Inject Bacteria Into Joints, Tissue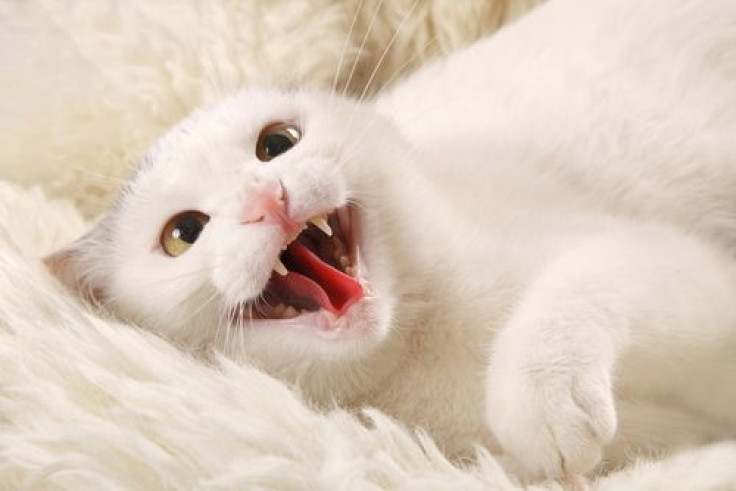 A small bite on the hand from Fluffy or Fido is often laughed off, especially if it's done by a family pet. However, even the slightest pinprick bite-related injury can potentially be life-threatening to victims. According to a recent study published in the Journal of Hand Surgery, these tiny cat bites can penetrate bacteria deep into the joints and tissue, increasing the likelihood of infection, hospitalization, and, in some cases, reconstructive surgery.
Cat aggression is sometimes taken less seriously than dog aggression most likely due to cats' size, and because they don't pursue people to bite them like dogs can, says the American Society for the Prevention of Cruelty to Animals (ASPCA). Cats are considered to have formidable aggression because they have five potential weapons: their teeth and all four clawed paws. Meanwhile, dogs have one sole weapon: their mouth. Their bites and scratches are not only painful, but they can easily become infected and cause cat scratch fever — a bacterial disease that leads the lymph nodes to become swollen.
With the popular misconception of the lack of danger from cat bites, a team of researchers at the Mayo Clinic assessed the overall morbidity of pinprick bites to the hand and identified the risk factors for hospitalization. Data of 193 patients — 69 percent female with an average age of 49 treated at Mayo Clinic in a three-year period — were analyzed by the researchers. These patients were either hospitalized, treated with oral antibiotics as outpatients, or were not treated. The average time between the bite and medical care was 27 hours.
Thirty-six of the 193 patients were hospitalized immediately when they sought medical care, while 154 were treated with oral antibiotics as outpatients, and three weren't treated. The antibiotic treatment was not effective in 21 patients, with a failure rate of 14 percent. Therefore, these patients were sent to the hospital, resulting in a total of 57 patients hospitalized for an average of three days. The researchers estimated the time between the bite and medical care was 24 hours. Patients who were bitten directly over the wrist or any joint in the hand were more likely to be hospitalized compared with those who suffered bite-related injuries over soft tissue.
Cats' teeth are sharp, and they can inject bacteria into the joints and tissue. This bacteria can include a strain common in animals, and therefore, can be particularly hard to fight with antibiotics. The cat bites rapidly seal over and trap bacteria from the cat's mouth under the skin, says VCA Animal Hospitals, where the bacteria can readily multiply. "It can be just a pinpoint bite mark that can cause a real problem, because the bacteria get into the tendon sheath or into the joint where they can grow with relative protection from the blood and immune system," said Dr. Brian, senior author of the study and a Mayo Clinic plastic surgeon and orthopedic hand surgeon, according to Medical Xpress.
Out of the patients that were hospitalized, 38 needed to undergo debridement, or flush out and remove the infected tissue. Eight of these patients needed more than one operation, while some needed reconstructive surgery. Although children, the elderly, ill and people with weakened immune systems are more susceptible to these cat bites, the study found middle-aged women faced the highest risk.
While close to 50 percent of all cat bites become infected, it doesn't mean dog bites should be undermined. In the U.S., there are an estimated 400,000 cat bites and 4.7 million dog bites a year, with 60 percent of dog bites involving children, says Healthychildren.org. In a study published in Otolaryngology-Head and Neck Surgery, researchers found young children are especially vulnerable to severe dog bites in the head and neck areas. They also found a link between reported cases of dog bites and rising temperatures. Most of the injuries sustained were caused by family pets in the summer months. A possible explanation may be either children spend more time outdoors with dogs in warmer temperatures or an increase in dogs' irritability.
Whether you have a cat or a dog, it is important to practice pet safety not for your kids, but for yourself, too. Minor injuries from family pets may lead to serious wounds, facial damage, and emotional problems. These bites may look harmless, but it is important to take immediate medical action after the initial injury.
Sources:
Babovic N, Carlsen BT, Cayci C. Cat Bite Infections of the Hand: Assessment of Morbidity and Predictors of Severe Infection. Journal of Hand Surgery. 2014.
Behar P, Brodsky L, Monroy A, Nagy M, Pizzuto M, Poje C. Head and neck dog bites in children. Otolaryngology-Head and Neck Surgery. 2009.
Published by Medicaldaily.com