From Causing Cancer To Treating Depression, 6 Little-Known Facts About Oral Sex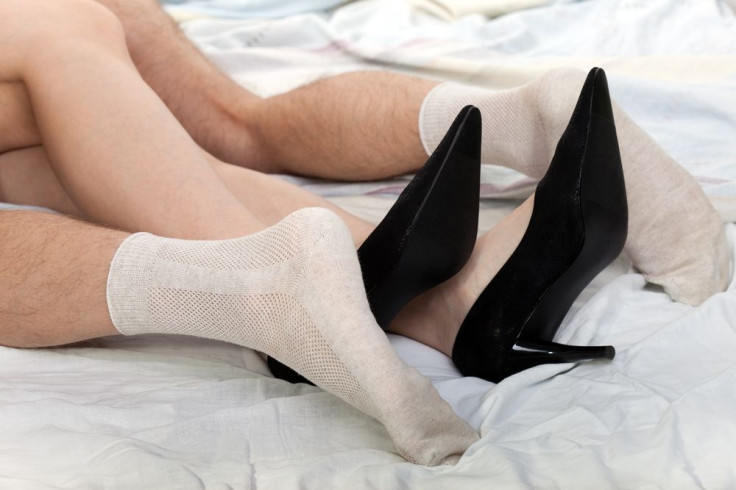 Before the Clinton years and well after the Michael Douglas days, the notion of oral sex has been considered taboo. Now, oral sex is more openly discussed in movies, TV shows, and magazines as a pleasurable part of a healthy adult relationship. However, there's much about oral sex that sexually active people should know before performing fellatio or cunnilingus on their partner.
In the U.S., 27 percent of men and 19 percent of women have had oral sex in the past year, according to a 2010 National Survey of Sexual Health and Behavior (NSSHB). Meanwhile in 2012, two-thirds of young Americans aged 15 to 24 have engaged in oral sex. Most of these young adults have tried oral sex before they engage in intercourse because of the popular misconception that oral sex is "risk-free," but that's not the case.
The surprising facts below will clarify misinformation surrounding sex, especially oral sex, and what can happen to the human body.
1. Men give oral sex as much as they receive it, especially older men.
Contrary to popular belief, men, especially older men, give as much oral sex to women as women give to men. A 2010 study published in The Journal of Sexual Medicine found only 55 percent of men in the 20 to 24-year-old range admitted to giving oral sex in the past year compared to 75 percent of women. In the 30 to 39 age range, 69 percent of men have given women oral sex compared to 59 percent of women. This pattern suggests that the more you age, the more reciprocal you are in oral sex.
2. Giving oral sex can lower the risk of preeclampsia.
Pregnant women who perform oral sex on their male partner can lower their risk of preeclampsia. A 2000 study published in the Journal of Reproductive Immunology found women a strong correlation between a diminished incidence of preeclampsia and the frequency at which a woman practices oral sex. If a woman had relatively little prior exposure to the father's semen, she would have a higher risk of developing the condition compared to if she performed oral sex and swallowed his semen.
The researchers believe this occurs because of the development of immunological tolerance via oral insertion and gastrointestinal absorption of the semen. This supports the notion that a greater frequency of sex with the same partner who is the father of a woman's child, can significantly decrease her chances of developing preeclampsia. The pregnancy complication is characterized by high blood pressure, and can sometimes be accompanied by fluid retention and proteinuria.
3. Swallowing semen during oral sex can ease pregnancy morning sickness.
Typically, the nausea that occurs during the first few months of pregnancy, morning sickness, can be remedied with a teaspoon of ginger or mint. However, a 2012 paper written by SUNY-Albany psychologist Gordon Gallup suggests pregnant women who swallow the father's semen can actually cure their episodes of morning sickness. The woman's body will first reject the father's semen upon ingestion as an infection and then react to it by vomiting, according to Gallup. After this, the woman's body will build up a tolerance to it and alleviate the morning sickness symptoms.
4. Sperm via oral sex can lower the risk of depression.
Semen's mood altering chemicals can elevate mood, increase affection, and ward off depression. A 2012 study published in the journal Archives of Sexual Behavior found seminal fluid may contain antidepressant properties and may significantly lower depression in women who had oral sex and sexual intercourse. The researchers also noted women who described themselves as "promiscuous" yet used condoms, were as depressed as women who practice absinthe. This implies how it's not the semen, not the sex that made the women in this study happy.
5. Oral sex can give you cancer.
The link between oropharynx cancers and HPV has been growing overtime in the U.S. A 2011 study published in the Journal of Clinical Oncology found the proportion of cancers associated with human papillomavirus (HPV) rose from 16 percent to 72 percent from the late 1980s to the early 2000s, particularly among Caucasian middle-age men. The sexually transmitted disease (STI) can cause genital warts or present itself without symptoms. If it's left untreated, it can also cause cancers including cervix, anus, penis, vagina, and head and neck, among many others.
6. You can get STDs from oral sex.
STDs are commonly transmitted through vagina and anal sex, but unprotected oral sex can also put you at risk for them. HPV, gonorrhea, syphilis, herpes, and hepatitis B can all be spread through oral sex. According to Planned Parenthood, the human immunodeficiency virus is less likely to be transmitted through this.
Oral sex is still sex and should always be performed with caution and preferably with a condom on to reduce the transmission of STDs.
Published by Medicaldaily.com