CDC: Flu Vaccine Only 23% Effective; Experts Say Shot Can Still Prevent Death, Hospitalizations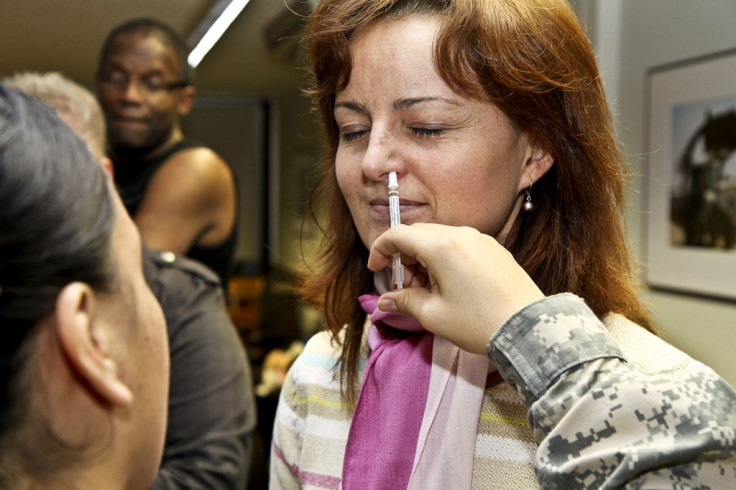 The Centers for Disease Control and Prevention stated Thursday that "this season's vaccine offers reduced protection" due to the fact that certain viruses "did not appear until after the vaccine composition" had been chosen. "While the flu vaccine is not working as well as usual against some H3N2 viruses, vaccination can still protect some people and reduce hospitalizations and deaths, and will protect against other flu viruses," the CDC's website states. H3N2 viruses are commonly known as swine flu viruses, and early data suggests the current flu season "could be severe," according to public health officials.
This year's vaccine, which is available as a shot or nasal spray, is about 23 percent effective, while the best vaccines from past seasons have ranged between 50 and 60 percent effective. For the already hesitant, this lower rate than usual means a flu vaccine is simply not worth it.
Anti-(Flu)Vackers
The latest statistics from the CDC show flu vaccination coverage during the 2012-13 flu season to be about 45 percent, an incremental but solid gain of three percentage points on the previous season. In light of the CDC's recommendation that everyone over the age of 6 months get vaccinated, these figures are less than inspiring to public health officials.
Common reasons why many of us decide against getting vaccinated include the fact that we're not in a high-risk group or we simply think it's unnecessary — how bad could the flu be if you're basically healthy? Approximately 36,000 people die from flu each year in the U.S., with 95 percent of these deaths occurring in people over 65. Another reason many people avoid a flu shot is the belief it could make us sick. The vaccine does not contain a live virus, so you won't ever get the flu from a shot or nasal spray. Admittedly, though, it is possible for you to develop a fever and muscle aches lasting a day or two.
To explain the less than stellar performance of its current vaccine, the CDC says the flu viruses chosen for the production of a vaccine and the flu viruses actually in circulation must be similar. Unfortunately, along with some viruses appearing only after the current vaccine went into production, about 70 percent of the predominant viruses used to create the vaccine have "drifted" from their original genetic composition. This likely accounts for the reduced effectiveness.
Generally, the flu shot works best in young, healthy people. The earliest estimates for the current vaccine show effectiveness to be highest among children under 17 and lower for older age groups.
Published by Medicaldaily.com