CDC Maps Out Obesity in the U.S.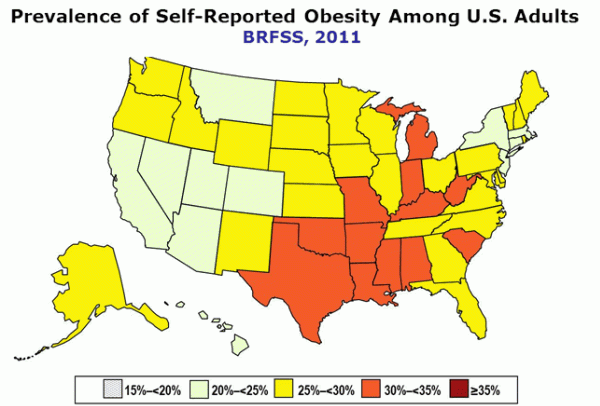 According to a Centers for Disease Control and Prevention report, 12 states in the U.S have high rates of obesity. The report says that Mississippi has the highest number of obese adults (based on BMI levels) while Colorado has the lowest.
"Obesity has contributed to a stunning rise in chronic disease rates and health care costs. It is one of the biggest health crises the country has ever faced," said Jeffrey Levi, PhD, Trust For America's Health executive director.
According to CDC, Body Mass Index (BMI) is a number calculated from a person's weight and height. The index provides a reliable indicator of body fat percentage for most people and is used to screen for weight categories that may lead to health problems.
The CDC report also said that no state met the Healthy People Goal of cutting down obesity rate to 15 percent; rather there has been an increase in the number of obese people in many states.
The report has been released by the Trust for America's Health (TFAH) and the Robert Wood Johnson Foundation.
"The good news is that we have a growing body of evidence and approaches that we know can help reduce obesity, improve nutrition and increase physical activity based on making healthier choices easier for Americans. The bad news is we're not investing anywhere near what we need to in order to bend the obesity curve and see the returns in terms of health and savings," Levi added.
Top 10 Cities That Have High Rates of Obesity
1. Mississippi (34.9%)
2. Louisiana (33.4%)
3. West Virginia (32.4%)
4. Alabama (32.0%)
5. Michigan (31.3%)
6. Oklahoma (31.1%)
7. Arkansas (30.9%)
8. Indiana (30.8%) (tie)
8. South Carolina (30.8%)
10. Kentucky (30.4%) (tie)
10. Texas (30.4%) (tie)
Top Ten States Where Obesity Rates are Low
1. Colorado (20.7%)
2. Hawaii (21.8%)
3. Massachusetts (22.7%)
4. District of Columbia (23.7%)
4. New Jersey (23.7%)
5. California (23.8%)
6. Utah (24.4%)
7. Nevada (24.5%)
7. New York (24.5%)
7. Connecticut (24.5 %)
Published by Medicaldaily.com