CDC: Second nurse with Ebola should not have traveled by plane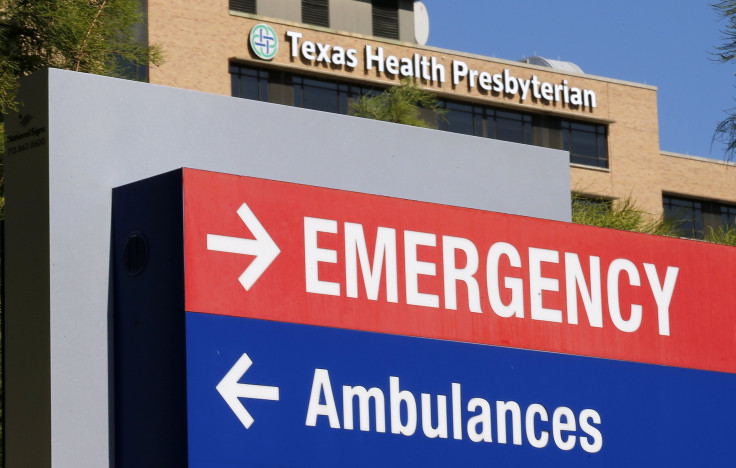 DALLAS (Reuters) - A second Texas nurse who tested positive for Ebola after caring for a patient with the virus had traveled by plane a day before she reported symptoms, U.S. health and airline officials said on Wednesday, adding that she should not have been on a commercial flight.
The worker at Texas Health Presbyterian Hospital in Dallas had taken a Frontier Airlines flight from Cleveland, Ohio to Dallas/Fort Worth International Airport on Monday, the officials said.
The woman, identified to Reuters by her grandmother as Amber Vinson, 29, was isolated immediately after reporting a fever on Tuesday, Texas Department of State Health Services officials said. She had treated Liberian patient Thomas Eric Duncan, who died of Ebola and was the first patient diagnosed with the virus in the United States.
The latest revelation raised fresh questions about the handling of Duncan's case and its aftermath by both the hospital and the U.S. Centers for Disease Control and Prevention (CDC). Concerns over Ebola have rattled markets, with the Dow Jones Industrial Average down 2.5 percent on Wednesday.
CDC Director Dr. Thomas Frieden told reporters Vinson should not have been traveled on a plane.
"The patient had traveled to Ohio before it was known that the first healthcare worker was ill. At that point that patient as well as the rest of the healthcare team were undergoing self-monitoring. The second healthcare worker reported no symptoms and no fever. However, because at that point she was in a group of individuals known to have exposure to Ebola, she should not have traveled on a commercial flight," he said.
The agency said earlier that it was asking all of the more than 130 passengers who shared the flight to call a CDC hotline.
In Washington, the White House said President Barack Obama had abruptly postponed a political trip he was to make on Wednesday to convene a high-level meeting about the government's response to the Ebola outbreak.
The move suggested a higher level of concern at the White House after reports emerged about Vinson, who government officials said was being transferred for treatment to Emory University Hospital in Atlanta, which specializes in infectious diseases.
At least 4,447 people have died in West Africa in the worst Ebola outbreak since the disease was identified in 1976, but cases in the United States and Europe have been limited. The virus can cause fever, bleeding, vomiting and diarrhea, and spreads through contact with bodily fluids.
"Health officials have interviewed the latest patient to quickly identify any contacts or potential exposures, and those people will be monitored," the health department said in a statement.
During the weekend, 26-year-old nurse Nina Pham became the first person to be infected with Ebola in the United States. She had cared for Duncan during much of his 11 days in the hospital. He died in an isolation ward on Oct. 8.
The hospital said on Tuesday that Pham was "in good condition."
National Nurses United, which is both a union and a professional association for U.S. nurses, on Tuesday said the hospital lacked protocols to deal with an Ebola patient, offered no advance training and provided healthcare workers with insufficient gear, including suits that left their necks exposed.
'PILED TO THE CEILING'
Basic principles of infection control were violated by both the hospital's Infectious Disease Department and CDC officials, the nurses said, with no one picking up hazardous waste "as it piled to the ceiling."
"The nurses strongly feel unsupported, unprepared, lied to, and deserted to handle the situation on their own," the statement said.
The hospital said in a statement it had instituted measures to create a safe working environment and it was reviewing and responding to the nurses' criticisms.
Speaking early Wednesday on CBS "This Morning," U.S. Health and Human Services Secretary Sylvia Burwell declined to comment on the nurses' allegations.
Dallas Mayor Mike Rawlings said at a news conference Wednesday that the second infected nurse lived alone and had no pets. He said local health officials moved quickly to clean affected areas and to alert her neighbors and friends. A decontamination could be seen taking place at her residence.
EARLY WAKEUP
Residents at The Bend East in the Village apartment complex were awoken early Wednesday by text messages from property managers saying a neighbor had tested positive for Ebola, and pamphlets had been stuffed beneath doors and left under doormats, said a resident, who asked not to be named.
Other residents were concerned enough that they were limiting time spent outdoors.
"Everybody thinks this won't happen because we are in the United States. But it is happening," said Esmeralda Lazalde, who lives about a mile from where the first nurse who contracted Ebola resides.
Texas Health Presbyterian Hospital is doing everything it can to contain the virus, said Dr. Daniel Varga of Texas Health Resources, which owns the hospital. "I don't think we have a systematic institutional problem," he said at a news conference on Wednesday.
At the same briefing, Dallas County Judge Clay Jenkins, the county's chief political officer, said authorities were anticipating additional possible Ebola cases.
"We are preparing contingencies for more, and that is a very real possibility," Jenkins said.
The CDC said in a statement that it was performing confirmation testing of Texas' preliminary tests on the new patient.
CDC Director Frieden said Tuesday the agency was establishing a rapid-response team to help hospitals "hands on, within hours" whenever there is a confirmed case of Ebola. Frieden has come under pressure over the response and preparedness for Ebola, but White House spokesman Josh Earnest said U.S. President Barack Obama was confident of Frieden's ability to lead the public health effort.
REINFORCEMENTS
Burwell, in a series of television interviews on Wednesday, said officials were adding staff to ensure the hospital in Dallas followed procedures to prevent transmission of the virus.
She said there would be round-the-clock site managers to oversee how healthcare workers put on and remove the protective gear used when treating Ebola patients.
In addition to extra CDC staff on site, two nurses from Emory University, in Atlanta, which has a specialized hospital that has treated other Ebola patients flown in from West Africa, were in Dallas to train staff.
Obama was due to hold a video conference Wednesday with British, French, German and Italian leaders to discuss Ebola and other international issues, the White House said.
Prospects for a quick end to the contagion diminished as the World Health Organization predicted that Liberia, Sierra Leone and Guinea, the three worst-hit countries, could produce as many as 10,000 new cases a week by early December.
By Lisa Maria Garza and Terry Wade
(Additional reporting by Jim Forsyth in San Antonio, Susan Heavey and Doina Chiacu in Washington D.C. and Jon Herskovitz in Austin, Texas; Writing by Jonathan Kaminsky and Curtis Skinner; Editing by Mohammad Zargham, Doina Chiacu, Bernadette Baum and Jonathan Oatis)
Published by Medicaldaily.com