Measles Case At California Charter School With Low Vaccination Rate Leads To Temporary Closing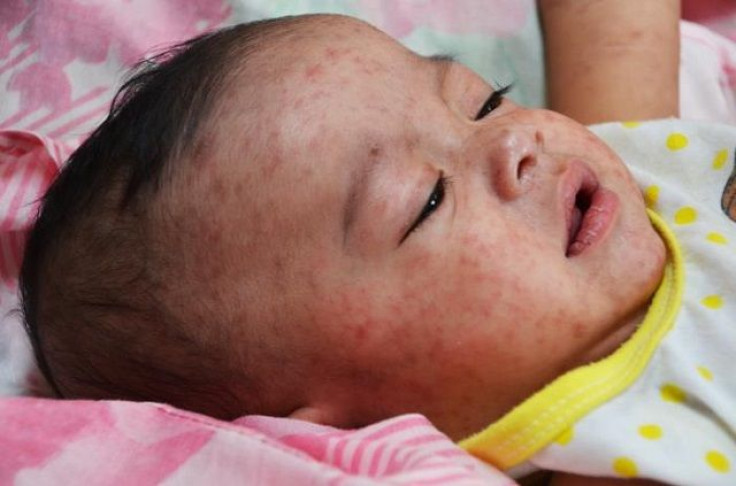 A case of measles found in a California school with a heavily-unvaccinated student body is poised to demonstrate the damaging effects of the anti-vaccination movement.
This past Tuesday, the Health and Human Services Agency of Nevada County announced that an unvaccinated student at the Yuba River Charter School in Nevada City had contracted the viral disease earlier this month, likely during travel overseas. Although the boy has recovered fully, health officials believe he was infectious while attending the school on March 17. Officials shut down the school Wednesday, reopening it Thursday only to children with documented measles vaccinations. Unvaccinated children will be allowed to return April 8, unless new cases emerge.
"As the state's public health officer, it's concerning to receive a report of a child with measles because it's a disease that can easily be prevented," said Dr. Karen Smith in a statement released by the California Department of Public Health. "Immunization is the best way to protect against measles. Two doses of the measles, mumps, and rubella vaccine are approximately 97 percent effective at preventing disease in exposed persons."
Though Nevada County already boasts a particularly anemic vaccination rate, with only 77.1 percent of all children entering kindergarten in 2015 having received all their shots, Yuba River is even worse. Only 43 percent of its kindergartners received all their necessary shots by last year, according to data collected by the California Department of Public Health.
Measles was formally eliminated within the United States in 2000, meaning it no longer occurs naturally within our borders, but sporadic cases are sometimes brought over from elsewhere. Although overall vaccination rates remain high, the last few years have seen an uptick in small communities that ardently refuse to vaccinate their children. Advocates cite oft-debunked claims about vaccinations' hidden dangers, such as a link to autism spectrum disorders.
In 2014, the 667 measles cases reported nationwide marked the largest annual toll since 2000, according to the Centers for Disease Control and Prevention (CDC). Last year, a widespread multistate outbreak that began at an amusement park in California led to over 130 people coming down with the highly contagious germ. The majority of these cases were among the unvaccinated.
While anti-vaccination advocates have frequently portrayed the disease as harmless, even going so far as to craft children's books that promote the "benefits of having measles," the disease infects 20 million people and kills around 146,000 worldwide every year, according to the CDC.
Following the 2015 outbreak, California passed a law to bar parents enrolling their children in public or private school from forgoing current mandatory vaccinations, measles included, due simply to their personal beliefs; the law will come into effect later this June.
Published by Medicaldaily.com