Chew On This: Dentists Extract 232 Teeth, 'A World Record,' From Indian Teen With Odontoma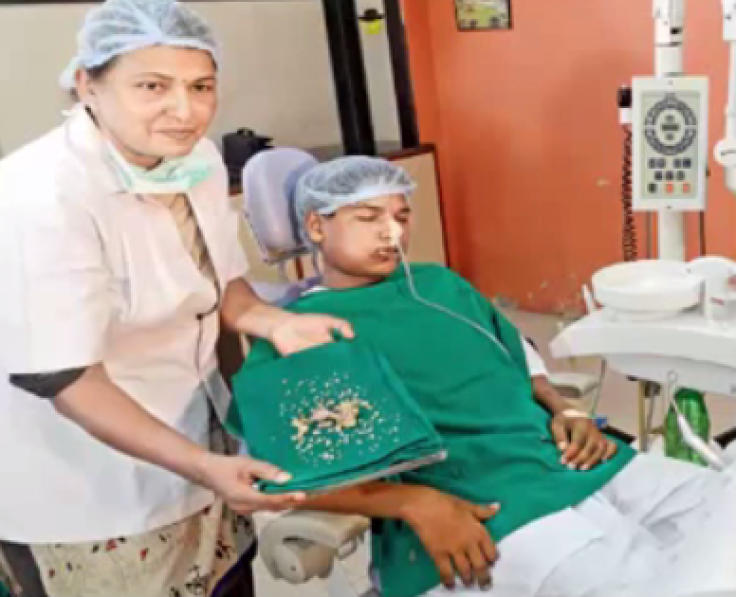 Most of us dread going to the dentist for our six-month dental checkups, and we try to think of ways to take the "edge off" our dental visit. A 17-year-old Indian teen and his family came from a village to Mumabi's JJ Hospital's dental department to get his teeth extracted, specifically 232 teeth.
Ashik Gavai, who suffers from complex composite odontoma, underwent a seven-hour surgery to remove all of the "small white pearls," which dentists have acknowledged as "a world record." Gavai had been suffering for 18 months and traveled to Mumbai after local doctors failed to identify the cause of the problem. It was in Mumbai, where Dr. Sunanda Dhiware, head of Mumabi's JJ Hospital's dental department, where the teen was formally diagnosed. "Ashik's malaise was diagnosed as a complex composite odontoma where a single gum forms lots of teeth. It's a sort of benign tumor," she told BBC.
The teen's lesion typically takes place because the dental components are laid down in a disorganized manner, due to failure of normal morphodifferentiation, according to the National Academy of Dentistry in India. The odomntomas, or the malformations of the dental tissues, may interfere with the eruption of the associated tooth. Surgery is necessary to prevent the further growth of teeth deep in the jaw area.
Suresh Gavai, Ashik's father, told the Mumbai Mirror his son complained of severe pain a month ago. "I was worried that it may turn out to be cancer so I brought him to Mumbai," he said. However, doctors found the tumor found deep in the lower jaw was benign. Dhiware said she had "not seen anything like this before in [her] 30-year career," but she was "thrilled to get such an exciting case."
Ashik now has 28 teeth after the surgery conducted on Monday, which involved two surgeons and two assistants.
Published by Medicaldaily.com