Chicago Company Only Allows 6 Minutes Per Day For Bathroom Breaks, Union Workers Fight Back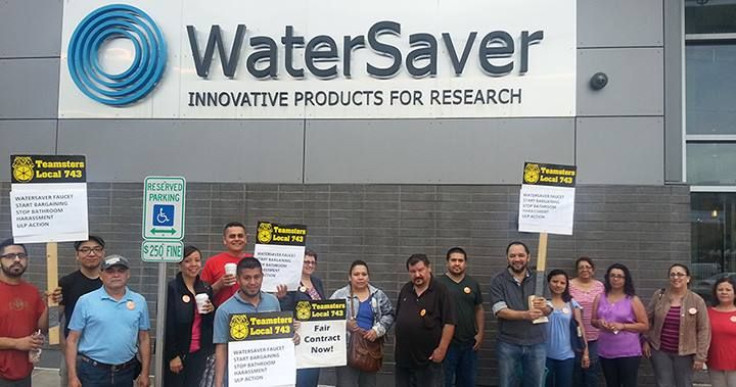 A company in Chicago thinks that its workers are taking too many bathroom breaks and wants to limit employees to six minutes per day.
A union in Chicago claims that its union workers are facing repercussion as a result of their "excessive" bathroom breaks. Teamsters Local 743 filed a complaint with the National Labor Relations Board last month, according to ABC News. They are still waiting on a response from WaterSaver Faucet Company.
It all started last year when WaterSaver Faucet Company installed equipment that would allow the company to monitor the staff's bathroom use. The electronic equipment required employees to use a key to get in and out of the bathroom during work hours. Union workers began picketing outside of the company doors on July 9 with signs that read, "Stop Bathroom Harassment!" The attorney for Teamsters Local 743, Nick Kreitman, said 19 of approximately 90 employees were disciplined last month for "excessive washroom" use. According to the filing, CNN reported, there have also been warnings issued.
One WaterSaver Faucet employee described this alleged "excessive use" as spending 60 minutes or more over the last 10 working days. This totals up to an average of six minutes per day. "The company has spreadsheets on every union employee on how long they were in the bathroom," Kreitman said. "There have been meetings with workers and human resources where the workers had to explain what they were doing in the bathroom."
The company responded: "We understand that employees need to use the washroom outside of scheduled break times. Any person may go to the washroom at any time they need. It should be noted that union leadership previously had agreed to a policy regarding washroom use, and even suggested language for it."
Their reasoning for this limit is that they are losing production time. The CEO, Steven Kersten, said that 120 hours of production were lost in May due to bathroom breaks that went over the allotted time. The company also has a reward system where employees can earn up to $20 per month if they only use the bathroom during break time or after work. Some have earned that bonus, according to Kersten.
However, is holding your urine all day really worth that extra 20 bucks? Ignoring the call of nature can be bad for your health. According to Dr. Chamandeep Bali, holding your urine is not only a nuisance but it can pose real health threats. "The longer you hold your urine, the bladder can become a breeding ground for bacteria to grow," Dr. Bali told The Huffington Post.
Published by Medicaldaily.com