Chicago Teen, Keven Stonewall, Says He Will Cure Colon Cancer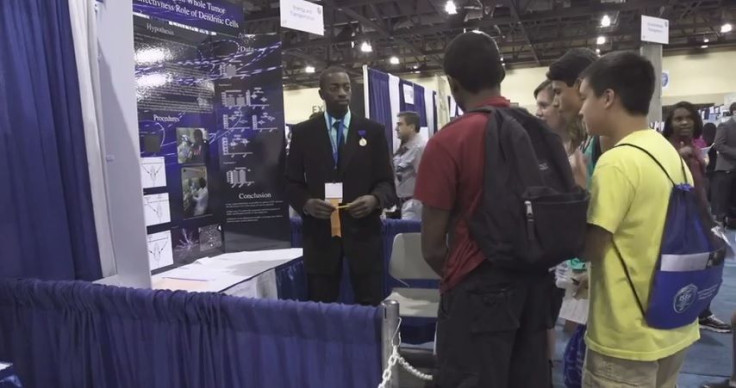 Just a few days ago, it was Thomas Hunt, the teen who made news when he dropped out of high school to find a cancer cure. Now, it's Keven Stonewall. After seeing his family and friends die from the disease, the 19-year-old became determined to find a cure for colon cancer, according to the New York Daily News.
The Chicago teen started working on a vaccine for colon cancer his senior year of school, baffling his teachers and classmates. "A lot of people are impacted by cancer. So I felt it was my role to step up and do something about it," Stonewall told DNA info. He spent hours upon hours in the Rush University lab where he was an intern conducting his experiment until he achieved success.
In his experiment, Stonewall studied the effects of cancer-treating drugs on older and younger mice. He injected the drug mixxantrone into the mice, followed by an injection of aggressive colon cancer cells. Three days later, Stonewall had some great results. He noticed that the tumors in the younger mice were gone and showed immunity to colon cancer. The older mice still showed signs of cancer. Stonewall was happy with his results, but still wanted to find a new drug that cured the older mice from the colon cancer.
There are other teenagers who shared Stonewall's and Hunt's passion to cure cancer. One of them is Californian Angela Zhang. In 2011, Zhang was only 17 years old when she won $100,000 for her cancer research. She mixed cancer medicine in a polymer that would attach to nanoparticles. Her goal was to make it easier for doctors to see exactly where the tumors are located. She didn't stop there; she then went further to find out how to shrink these tumors. She decided to try aiming the infrared light at the tumors to melt the polymer and release the medicine, killing the cancer cells while not harming any healthy cells. The tumors were almost completely gone in the mice.
Like Zhang, Stonewall realizes that there is more that needs to be done to figure out how to completely cure cancer. He is not giving up. Now a rising sophomore at the University of Wisconsin in Madison, he is still working on a vaccine that he hopes he can test on humans. Last year he was a finalist at the Intel International Science and Engineer Fair. He was praised by scientists who believe he should be honored for his research. They say he is helping researchers to discover new and improved treatments for colon cancer among the elderly.
Colon cancer is the second leading cause of cancer deaths in the United States. The Centers for Disease Control and Prevention says it is the third most common form of cancer. With the help of brilliant teens like Stonewall researchers, can come up with a cure that can help prevent and treat the disease.
Published by Medicaldaily.com