China To Enforce Nationwide Public Smoking Ban By End Of Year: Prohibition Revisited?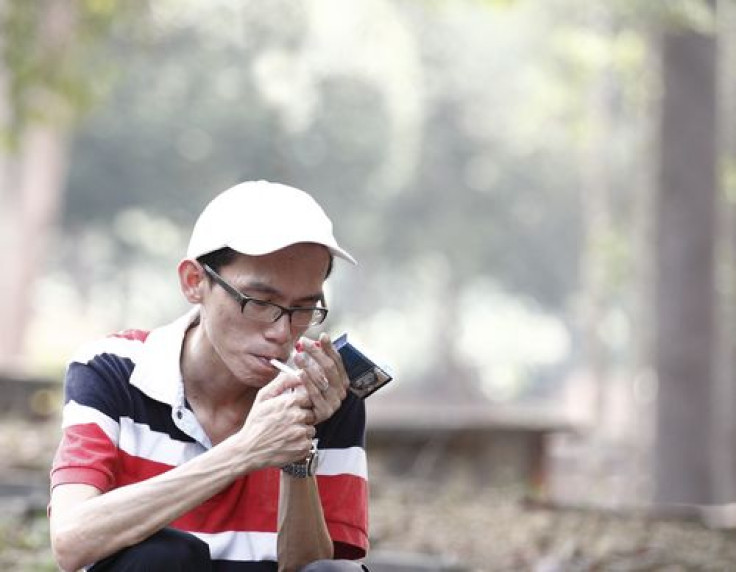 China is the world's largest cigarette producer and consumer, with over 300 million smokers placing their own and others' health at risk with first and secondhand smoke. In a press conference held yesterday, the National Health and Family Planning Commission announced its plan to implement new anti-smoking practices sometime this year. The commission, which noted current penalties are too vague, began drafting new regulations in 2013 to banish smoking from all indoor public venues and to clarify punishments, Xinhua reported, and has now begun to exert pressure on national lawmakers.
"Compared with the damage to health brought by smoking, the economic benefits brought by tobacco are trivial," Mao Qun'an, a commission spokesman, told the conference. "So we are greatly promoting legislation on smoking control." According to the commission, over a million people die from smoking-related diseases every year, while nearly 100,000 people die of diseases due to passive smoking. Of the country's more than 300 million smokers, 28.1 percent are over the age of 15.
At the end of 2013, the central government released a circular banning party and government officials from smoking while conducting activities on behalf of the state and in any public place including schools, hospitals, sporting venues, museums, and transportation vehicles. Many, including an official in Henan province, believe it will not be easy to enforce these bans, according to Xinhua. Giving only his surname, "Zhen" told China's official news service that he had seen officials taking part in meetings smoking in the hotel during breaks. "When we go to visit villages on business, village cadres, and other villagers, offer us a cigarette as etiquette," Zhen told Xinhua. "They will think you are taking on airs if you refuse to take it. Also, like drinking, if you don't smoke while everyone else around you is smoking, it complicates your work because you won't be able to blend in, and over time you may find yourself ostracized."
Despite national resistance, international officials have been supporting China's efforts to reduce smoking for some time now. In 2012, the World Health Organization's Director-General Margaret Chan awarded Health Minister Chen Zhu a certificate in recognition of his efforts to combat smoking, while encouraging him to raise its tobacco tax as a way to deter people, especially the young, from smoking, according to China Daily. Chan stated that international studies indicate that for every one percent rise in the price of a packet of cigarettes, the number of smokers falls by about 0.4 percent. Previously, in 2005 the WHO Framework Convention on Tobacco Control became effective and was signed by Chinese representatives; it bans smoking in all workplaces, public venues, and public transportation while calling for 30 to 50 percent of tobacco packaging to adopt printed warnings, such as "smoking is harmful." China, where many believe the general public is unaware of the health dangers of smoking, has yet to adopt these measures despite its official endorsement.
Meanwhile, regional, local, and community efforts to banish smoking have also been underway for some time. By the end of 2013, nine Chinese cities had begun implementation of public smoking bans and beginning on the first day of 2014, other cities, including Lanzhou, capital of northwest China's Gansu Province, had begun enforcement of rules and regulations. In particular, Lanzhou aims at combatting "indoor haze harm" by drafting legislation that specifies medical institutions, schools, government office buildings, public dining places, and public transport carriers.
Singapore's Nee Soon South district launched a smoke-free zone on Sunday, reported the Straits Times, the first of community-led efforts to banish public smoking. Nee Soon South is an area of 14.8 square kilometers in Yishun, a suburban town in the northern part of Singapore, with an estimated population of 51,787. The community's anti-smoking initiative covers all communal spaces in Nee Soon Zone South D, including the Yishun Stadium, Sports Hall, and Recreation Centre, residential blocks 816 to 849, and other areas while designating six smoking points, each measuring three by three meters, within the zone. However, no penalty will be levied on those who ignore the new rules, according to Straits Times, and many have begun to flout the regulations: "the smoke-free signs were everywhere, but smokers were oblivious."
Published by Medicaldaily.com