'China's Elephant Man' Has Over 3 Pounds Of A Tumor Removed From His Face (Photos)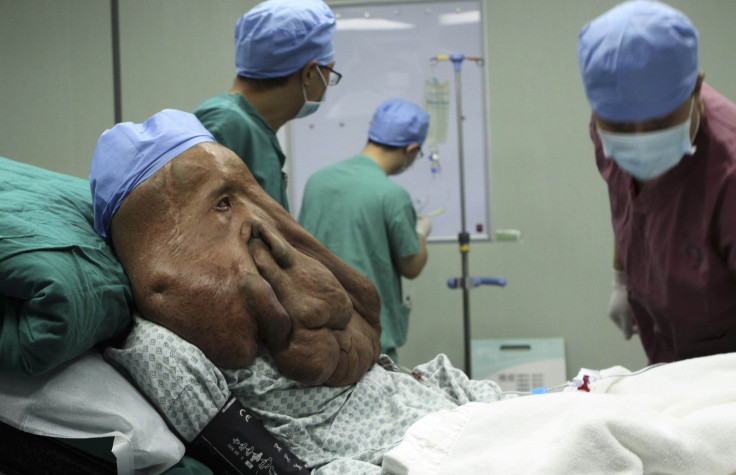 Thirty-seven-year-old Huang Chuncai has had a hard time living a normal life after he was diagnosed with a rare genetic disorder known as neurofibromatosis. Described as "China's Elephant Man," Huang has lived most of his life with his face covered by ghastly tumors that have distorted his vision and stunted his growth. To help correct his condition, the native of the Hunan province has undergone a series of risky surgeries, including an operation this past Wednesday in which doctors removed over 3 lbs. of a tumor from Huang's left cheek.
Considered one of the world's most extreme cases of neurofibromatosis, Huang's tumors became more and more noticeable by the age of 4. As the size of his tumors grew, so did the number of health complications he suffered from. By the time he turned 25, all of his teeth had fallen out, making both eating and speaking no easy task. Today, his condition has led to a deformity of his backbone, causing his growth to be stunted and leaving him in constant pain.
In addition to physical health complications, Huang has also suffered emotional damage due to his genetic disorder. At the age of 10, he dropped out of school, following a never-ending stream of torment carried out by classmates, DailyMail reported. When Huang was younger, his mother and father were asked to sell their son to a circus as a part of a "Freakshow" type of act to which they declined.
According to the Mayo Clinic, neurofibromatosis causes tumors to grow on nerve tissue after cell growth is disturbed in the nervous system. These tumors that can grow anywhere in the nervous system such as the brain, spinal cord, and nerves are usually considered noncancerous and noncontagious. Common effects of neurofibromatosis include loss of vision, hearing loss, cognitive impairment, and cardiovascular disease.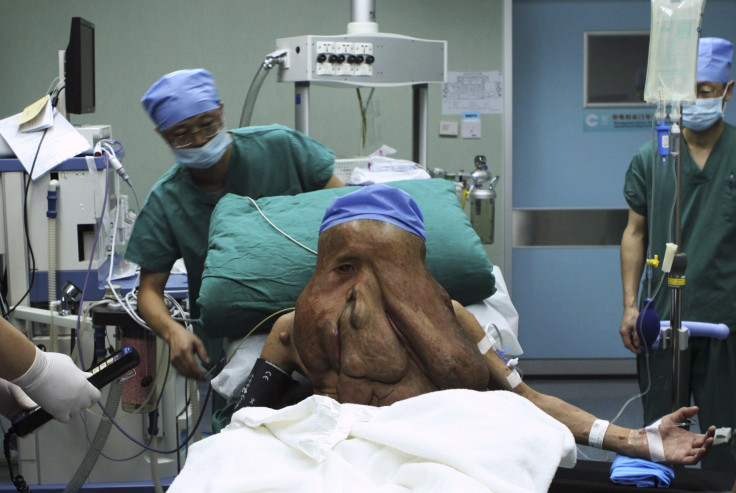 While there is no cure for neurofibromatosis, treatment options focus on healthy cell growth coupled with medications and physical therapy. Surgery to alleviate symptoms is considered when tumors begin to press on a nerve. The option of surgery can become dangerous if too much blood loss occurs. During successful operations back in 2007 and 2008, surgeons removed a 33-pound tumor from Huang's face.
Published by Medicaldaily.com