Chinese Baby Found Alive In Sewage Pipe In Jinhua City; Doctors Say Condition Is 'Stable' [GRAPHIC PHOTOS]
A newborn baby boy was rescued from a bathroom pipe in China after neighbors called authorities to report the sound of a baby crying.
The baby was apparently flushed down the toilet in an attempt to abandon him shortly after his birth. The Daily Mail reports that the baby was found in the 4-inch wide sewage pipe of a residential building in Jinhua city in the province of Zhejiang on Saturday.
Firefighters were called to the apartment complex and dismantled the pipe surrounding the baby piece by piece until they removed enough to transport the newborn to the hospital. He was still partially surrounded by the metal piping when he arrived at the hospital for treatment.
Doctors gently freed the baby and he is reported to be in stable condition. The boy was about two days old when he was discovered, and his placenta was still attached. He was found to initially have a low heart rate and labored breathing. He also had bruises to his head, arms and legs.
The community has rallied around the little boy. The hospital where he is being treated has decided to absorb the baby's medical bills. He is also receiving food and clothing donations, along with other miscellaneous gift.
China is known to place greater value, culturally, on boys rather than girls. Chinese girls are two times more likely to die in their first year of life than Chinese boys. In 2009, Americans adopted more than 3,000 babies from China — more than from any other country.
Infant abandonment rates in China are staggering. About 1 million orphans are abandoned in China each year. This could be because of China's strict regulation of family planning. The Population and Family Planning Law of the People's Republic of China says that since the country is densely populated, family planning is "a fundamental State policy." The law requires parents to be married and advocates for one child per couple. Once those requirements are met, couples may plan for a second child, but they must first request approval to do so from the government. This stern policy leads many Chinese parents, perhaps who have children out of wedlock or have more than the approved one child, to abandon their children in fear of legal sanctions.
NBC News reports that Chinese police said that they may have found the baby's parents, but refused to speak any further on the matter.
Click "start" on the image above to see photos — warning: some are graphic in nature.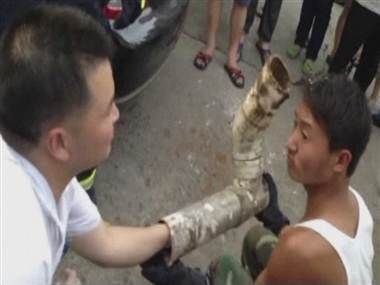 Published by Medicaldaily.com