Chinese Toddler Rams Chopstick Up His Nose And 3 Inches Into Skull, Without Brain Damage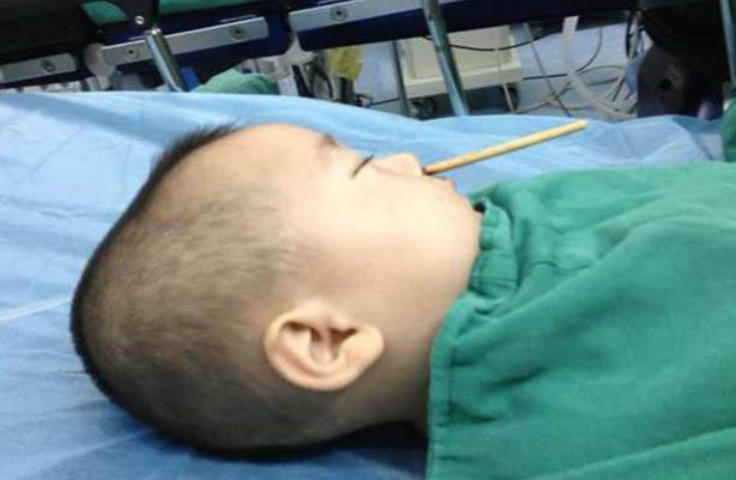 A Chinese toddler and his father in Wuhan, China, both learned a valuable lesson: Don't let toddlers play with chopsticks. The petrifying screams of 2-year-old Huang Zicheng led his father to rush to the toddler's room to witness an adult-sized chopstick rammed up his son's bloody nose. After a four-hour procedure, doctors revealed the adult-sized chopstick penetrated nearly 3 inches into his brain.
"I turned around and was shocked to find that the long stick had gone into his head from his nose," the father told Metro UK, after seeing his son in excruciating pain. At the time, the father said he was doing some chores and looking the other way. It was not until he heard Huang's screams did he realize something was amiss.
The CAT scans show the chopstick penetrated exactly 7 centimeters, or 2.7 inches, into the boy's brain, according to the Daily Star. Brain surgeons are baffled Huang miraculously made it unscathed; the chopstick failed to damage brain nerves or arteries. The toddler is expected to make a full recovery after the freak accident.
Similar to Huang's case, in June, 18-month-old Li Kaiyi of China had a chopstick ram into his brain after he tripped and fell forward. The chopstick went through the roof of the toddler's mouth and 2 centimeters into his brain tissues, the Daily Mail reported. Luckily, it didn't hurt the brain stem or the major nerves, and Li made a full recovery.
A lesson for parents: Be extra vigilant with toddlers and chopsticks.
Published by Medicaldaily.com