Church Bus Crash In Tennessee Claims 8 Lives, Injures 14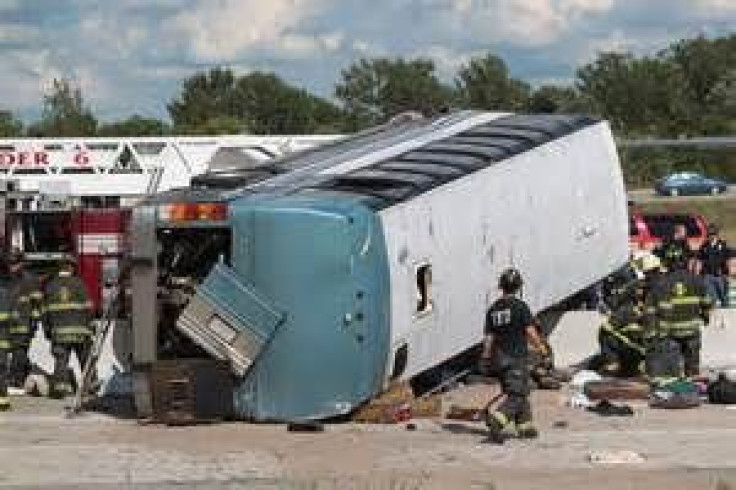 A fatal crash involving a church bus that was on its way back from a religious assembly has resulted in eight confirmed deaths. Members of the Front Street Baptist Church in Statesville, N.C., have gathered to pray for lost loved ones after the deadly three-vehicle crash in Tennessee this past Wednesday.
"Six of our loved ones have gone to be with The Lord in Heaven," Front Street Baptist's pastor, Rick Cruz, told WBTV. "It's been a very long night for all of us here and this morning we continue to receive information."
According to the Tennessee Highway Patrol, the driver of the bus lost control of the wheel after the bus's front left tire popped. After crashing through the highway divider and clipping an SUV, the bus struck a tractor-trailer that eventually caught fire.
One of the three occupants in the SUV was pronounced dead at the scene, along with the driver of the tractor-trailer. Six bus passengers were also killed, including the bus driver's wife.
"There's a lot of hurting people," the driver's son, Rebecca Johnson, told WATE. "We lost our mom and dad, but there's a lot of people who are scared right now. They have a lot of hurt and questions as well."
Fourteen people who sustained injuries during the crash were transported to the University of Tennessee Medical Center in Knoxville, the Associated Press reports. As of Thursday, no charges against the driver have been filed, although an official investigation has been launched.
"It was not a charter or a leased bus. It was a church-owned bus. They were on an adult outing and senior trip. The driver's history, we can't get into that at this point in time," Sgt. Bill Miller of the Tennessee Highway Patrol told WBTV. "As far as an issues with the bus, any safety issues, prior knowledge of that, that's all under investigation as well."
Published by Medicaldaily.com